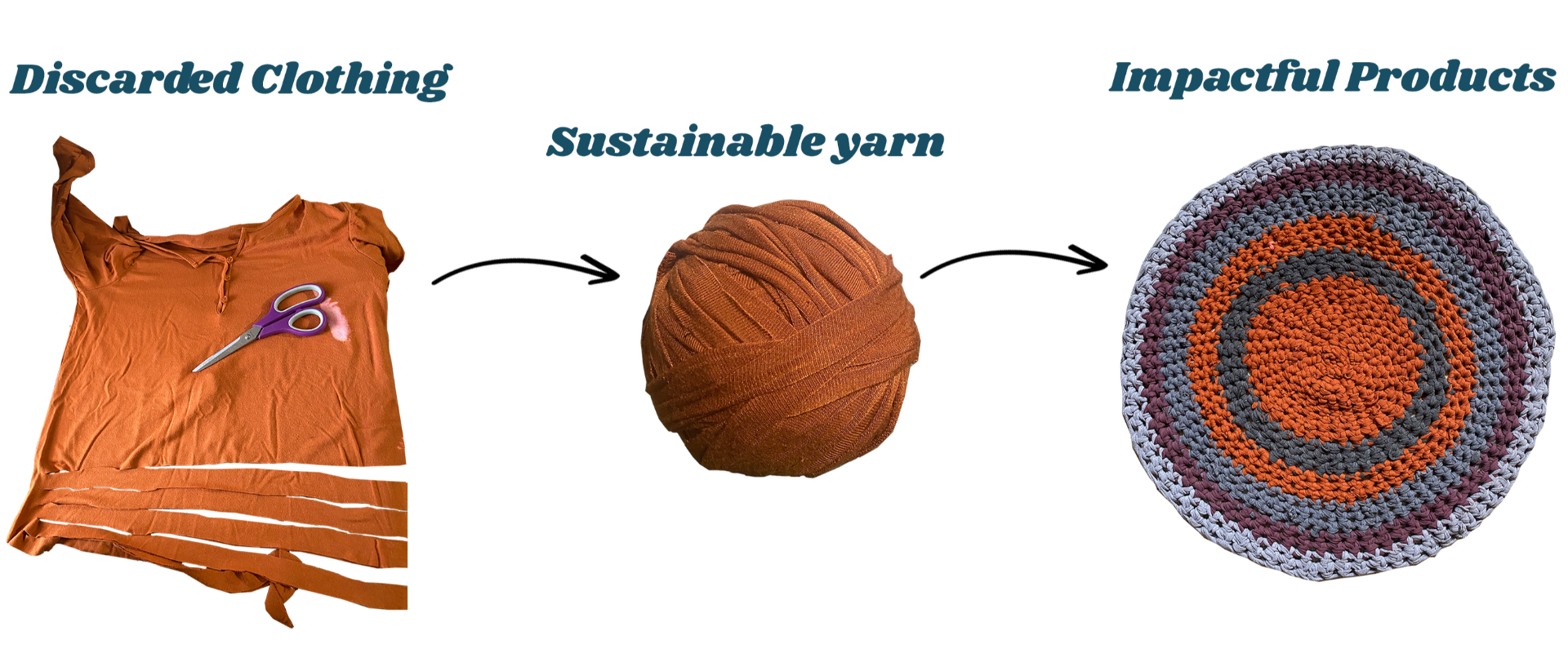 ---
---
We're all about...
The
Planet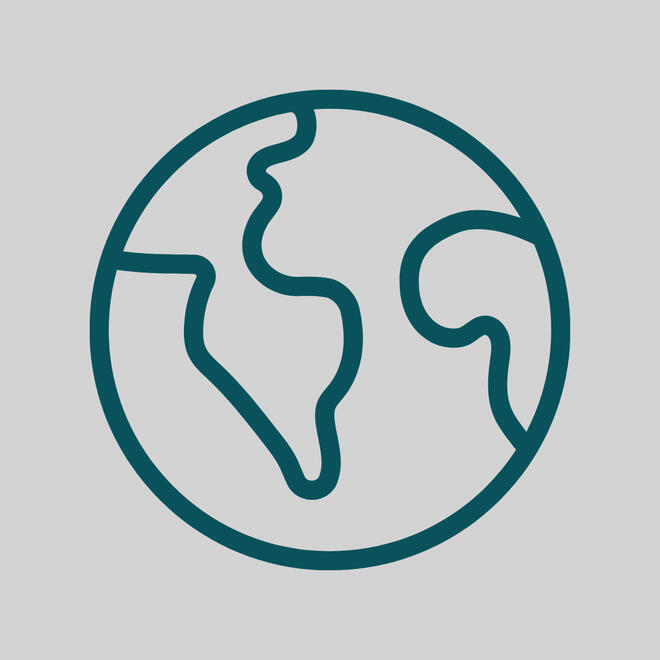 The
People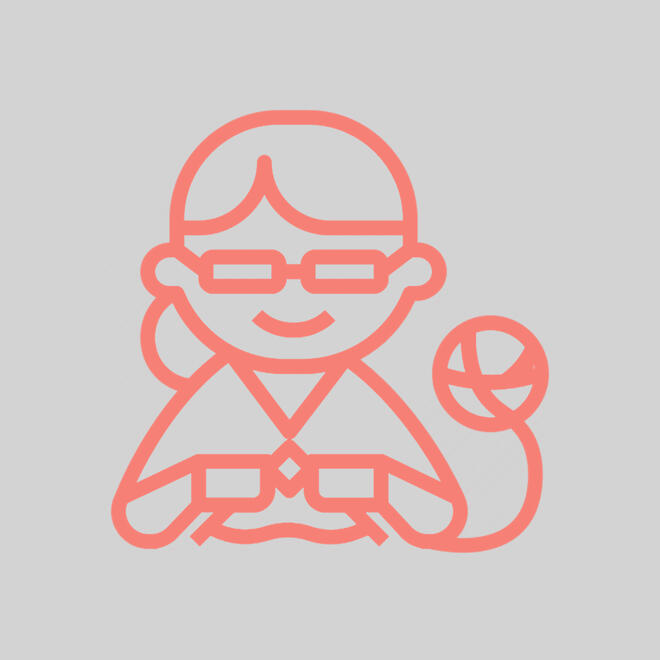 The
Product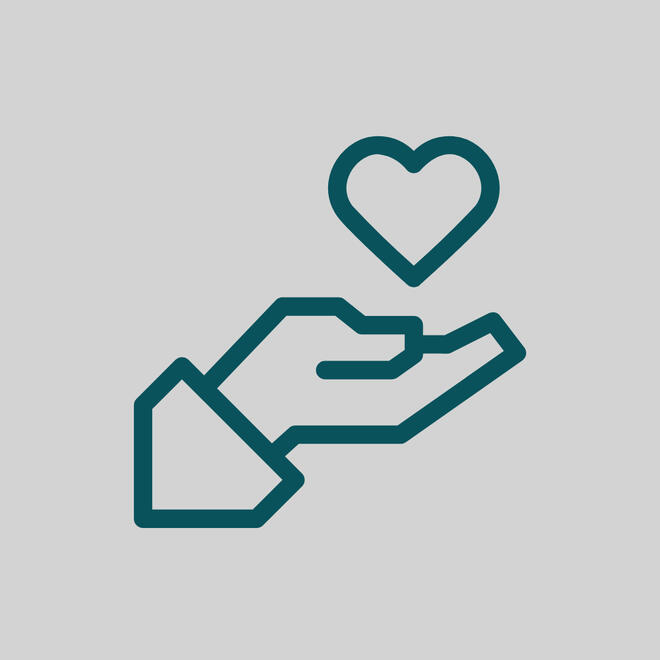 ---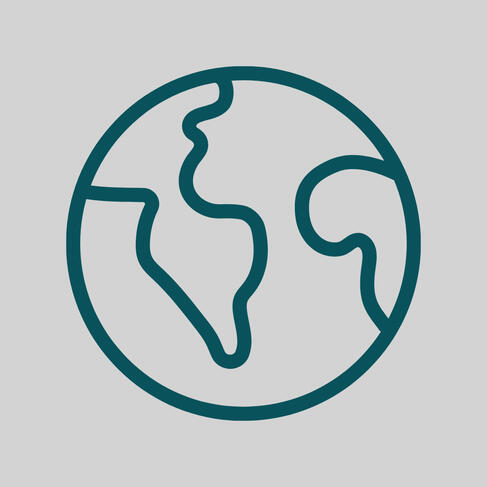 14 million tons of textiles are discarded every year in the US. We divert unwanted clothing from going to the landfill and turn it into versatile yarn.
---
Our partner creators with barriers to employment gain the mental and physical benefits of knitting and crocheting while creating products customers love.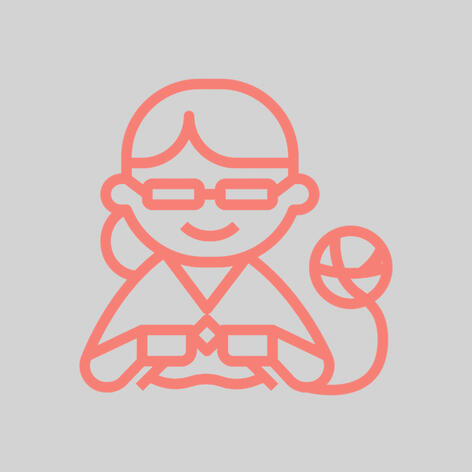 ---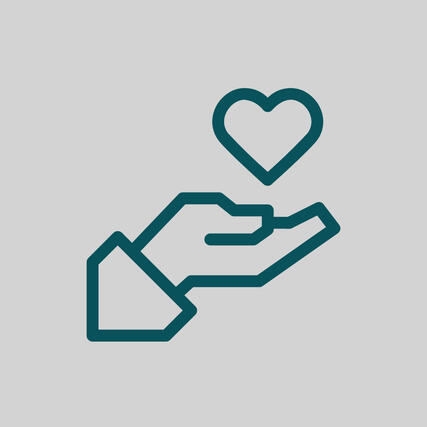 When a customer makes a purchase, the funds generated benefit our sustainability mission as well as returning directly into the hands of our creators.
---
We Need You!
To earn money by knitting & crocheting using eco-friendly materials, please fill out the form below!
---
Proudly Working Together with
To have the most positive impact on our community.
---
Make sure you don't miss upcoming product drops!
---
Thank you For Joining!
We can't wait to show you what we've been working on. In the mean time, please connect with us on social media to keep in touch.
---
About Us
Giglet's Garments was founded in the summer of 2021 and is the brainchild of founder and CEO, Emi Wall, as a way to deal with the massive amounts of post-consumer textile waste polluting our environment every day.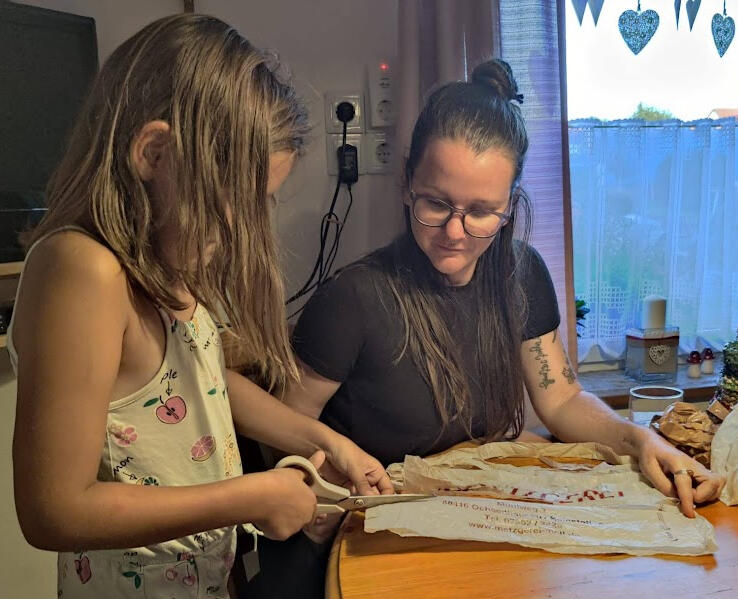 Read her answers to some commonly-asked questions below:
---
What does the name 'Giglet's Garments' mean?
"Giglet's Garments" was coined at the beginning of my journey with secondhand clothing when my focus was on sourcing and selling vintage clothing. A "giglet" is a shakespearean-era insult referring to a playful, giddy and lighthearted woman. I stumbled upon the word when looking for a term to precede 'garments' and I fell in love with it and decided I wanted to kind of reclaim that insult and use it as a way to describe the lighthearted and carefree feeling that I want our products to give.How is clothing sourced and diverted from the landfill?
We work through community partnerships with organizations such as Habitat for Humanity, who accept clothing donations. A large portion of the donations they receive are not suitable for sale in the retail shop (due to wear, staining, etc.) and would be thrown in the trash if not diverted by us and turned into sustainable clothing yarn.
How is yarn created?
Right now, yarn is created by hand simply with scissors or a rotary cutter in-house. We hope that as we expand, we are able to create a more automated method for yarn creation on a larger scale in a more streamlined method.How do you keep this method sustainable and waste free?
All off-cuts from the yarn making process are collected and used to stuff products such as pillows and cushions . Additionally, we collect any extra debris that comes with cutting fabric and use it in our stuffing as well, so there's no need to worry about micro-plastics that may be generated from processing existing clothing.
Our first Creator meet-up took place on August 6 at the Carson Cafe in Carson, NM! We hope it is just the first of many collaborative community events to come.
Become a creator and craft for the planet!
---
---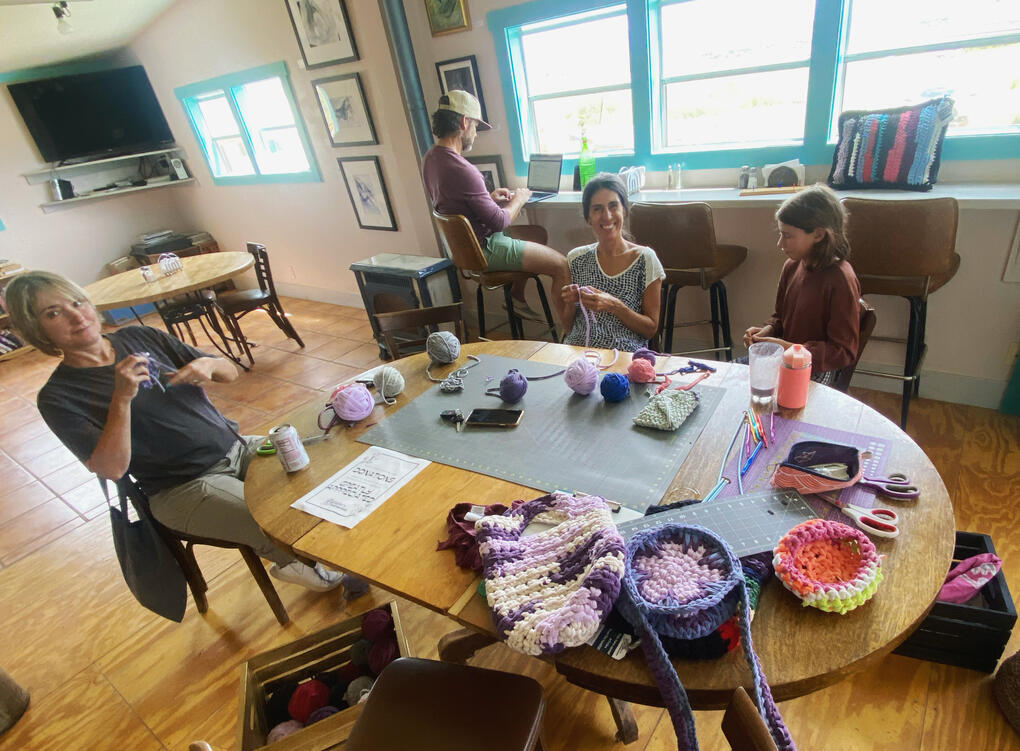 The Pilot
We're looking for 50-100 individuals to be a part of our pilot phase so we can learn the ropes together!
We provide you with sustainable yarn and the tutorials needed to create fun products. You'll earn money when your knit or crocheted creations sell, while helping Giglet's Garments become an established part of the economy with our impactful products.
If you're an individual experiencing one or more barrier to employment (whether based on age, disability, criminal record etc.) or are a part of an organization that works with such individuals, and you're interested in learning about becoming one of our pilot creators,
---
FAQ
Q: How much money will I earn?
A: It depends on how much time you have to commit to the project and how many items you finish, but our creators earn an average of $10 per item.
---
Q: How long will the pilot last?
We expect our pilot phase to run through Fall of 2022. We want to have enough time to account for feedback from both our creators and customers.
---
Q: What happens after the pilot?
A: We'll make any needed adjustments to our operating process, and then move forward as a fully-fledged social enterprise. We will still need our creators and would love to have you on board!
---
Q: Do I need any special tools or skills?
It would be great if you already know how to knit or crochet, but we will provide video tutorials to make the process clear for both our newbie and experienced crafters. Our crocheted items are even able to be made using just your fingers, so no special tools needed!
---
Q: What do I have to make?
Our pilot line will feature our sustainable area rugs as well as several styles of versatile bags, all made from upcycled t shirts.
---
Learning Center
---
Video Tutorials
Blog Posts
Every Purchase Saves
Textiles from the Landfill!
---
Made to Order
---
These items are part of our made-to-order line. Once your purchase is complete, our creators will get to work on your item(s) in the color combinations of upcycled yarn that we have available.
Color palettes cannot be guaranteed. Items will be created and ready to ship in 7-10 days. Due to the handmade nature of our products, sizes are all estimated. All transactions are handled through Paypal Processing
---
Market Bag - Small
$25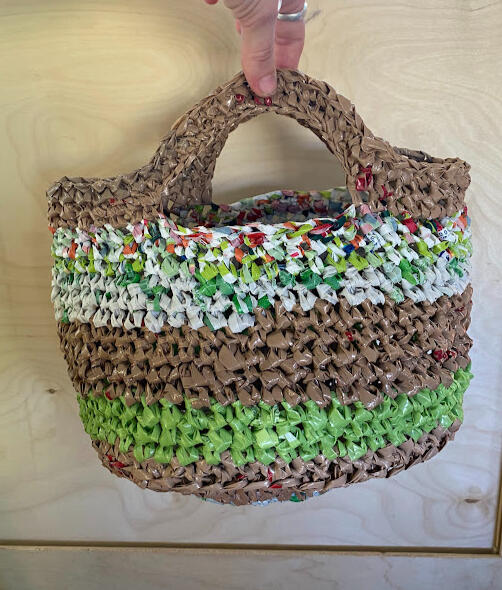 Unique + durable tote bags, perfect for a variety of uses and 100% upcycled! Because all bags are 100% handmade, dimensions and fabric content can vary slightly. Keeps 5-6 articles of clothing out of the landfill.
approx. 10-12 in. x 10-12 in, strap drop 3-4 in
---
Envelope Clutch
$20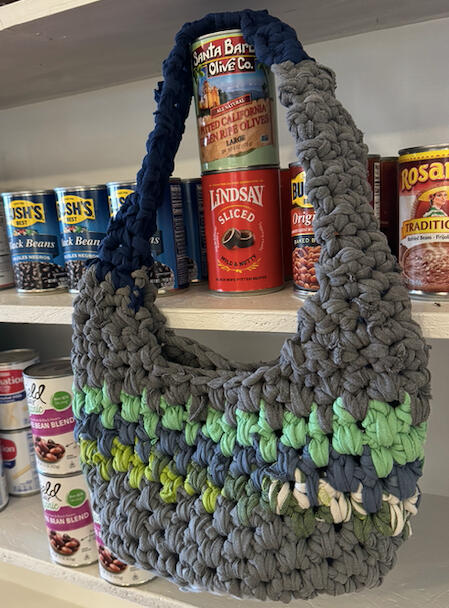 The perfect evening bag, sure to be a conversation-starter. Keeps 1-2 items out of the landfill, complete with upcycled accent button.
---
Market Bag - Large
$30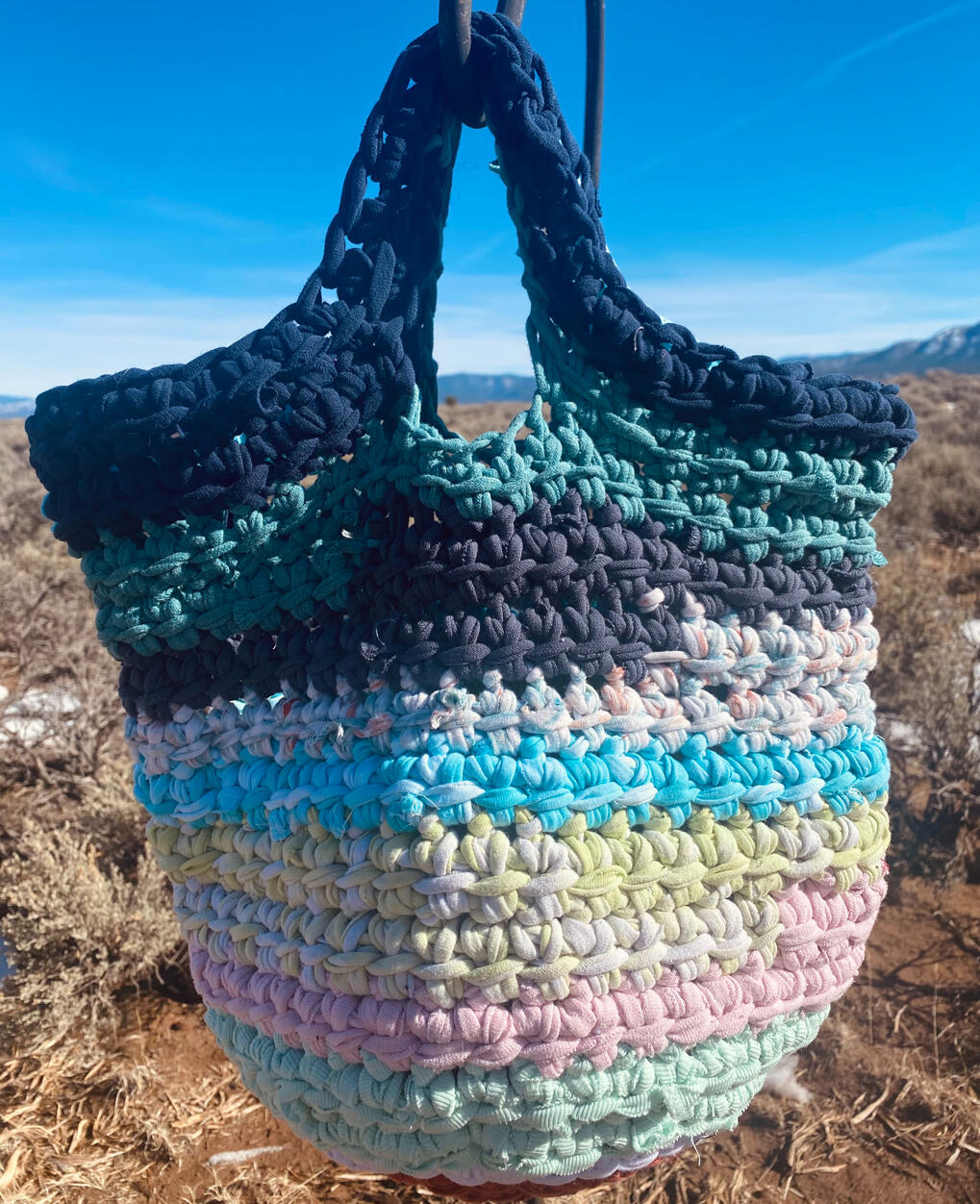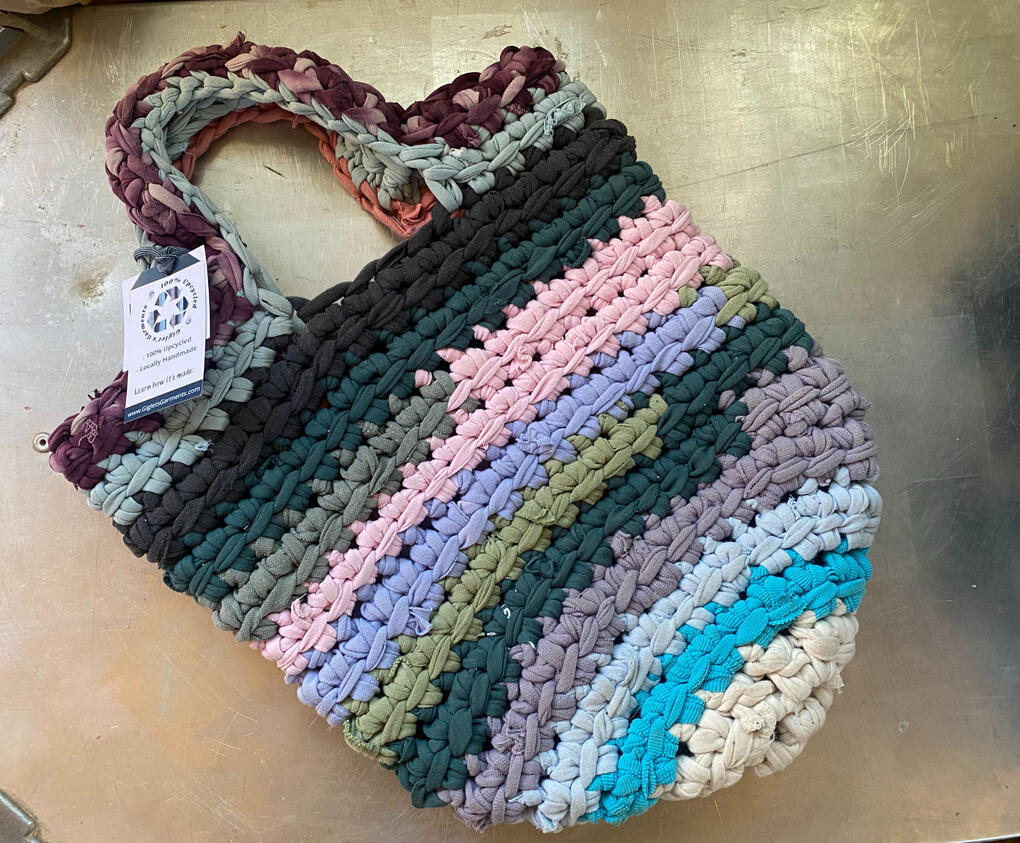 Make your trips to the market and more eco friendly with our 100% upcycled tote bags! These bags are hand-crafted from clothing that would otherwise be headed to the landfill. They are hand or machine washable, durable, and stretch to fit all your essentials. Keeps 6-7 articles of clothing out of the landfill.
Approx 13-14 in tall x 15 in wide
---
Circle Crossbody- Solid
$25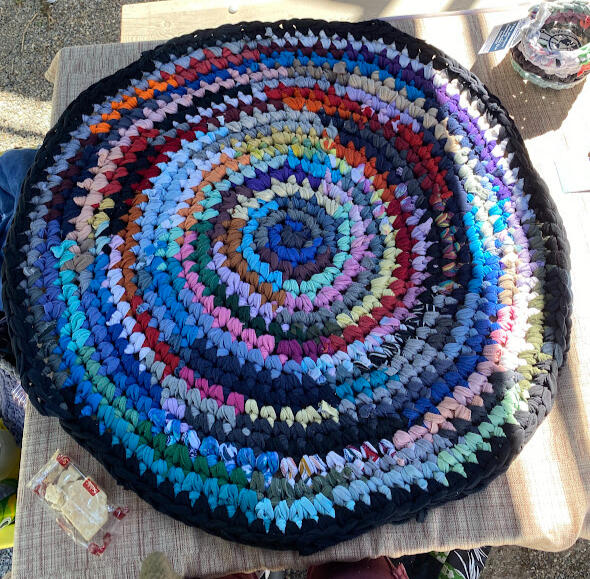 The perfect everyday bag for carrying your essentials.
Keeps 3 articles out of the landfill.
Bag measures 8" across
strap width 1.5"
strap drop 19"
---
Scrappy Pillow
$30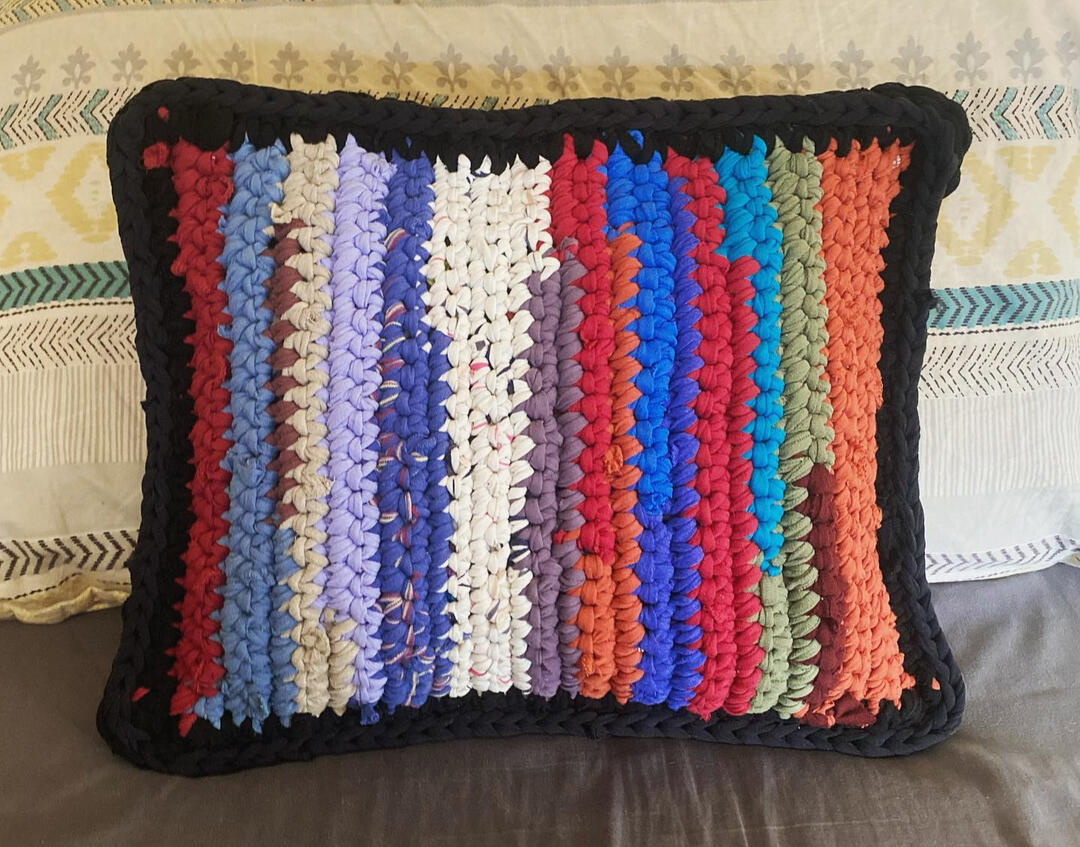 Looking for our MOST sustainable product? Well, look no further! Our pillows are stuffed with scraps and offcuts from our yarn-making process and your pillow purchase allows our company to be completely circular and zero waste!
Basic pillow is approximately 18" wide x 14" tall
---
Folk Flower Round Rug
$45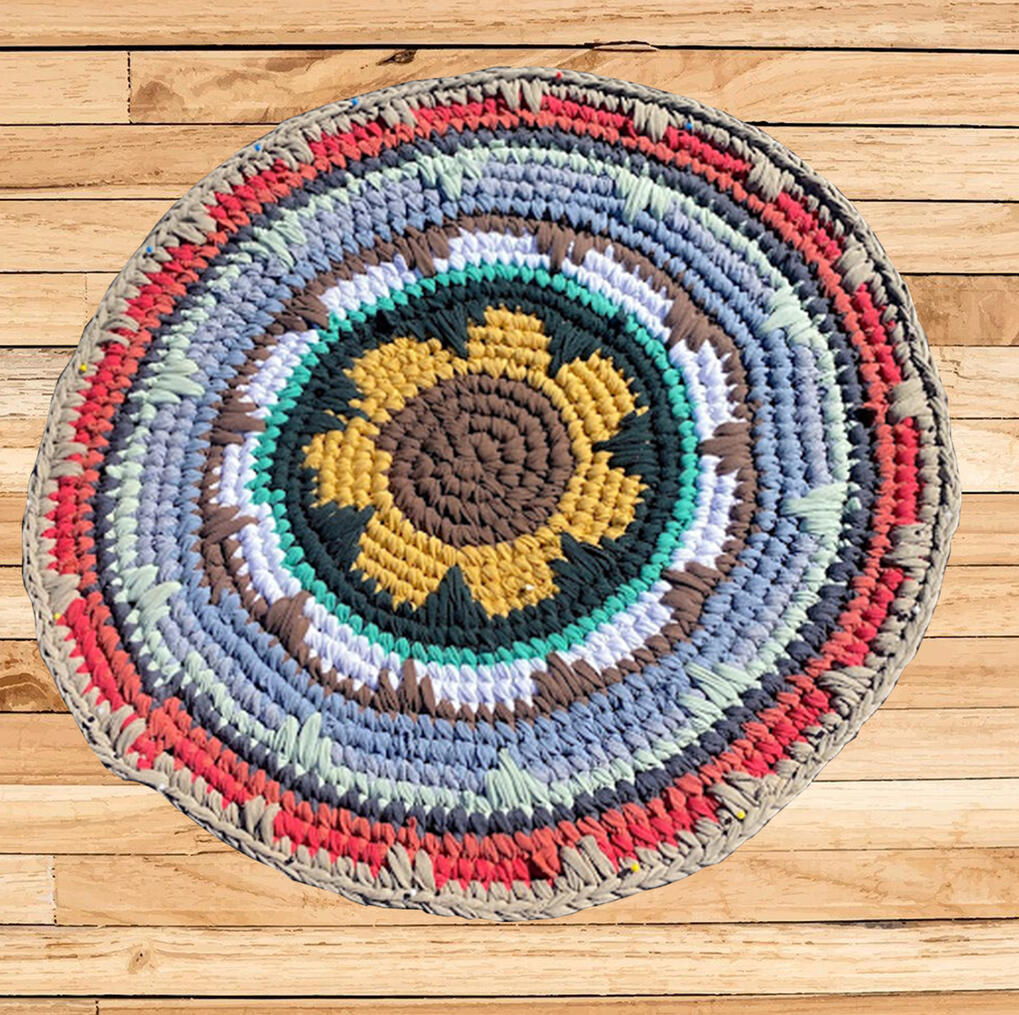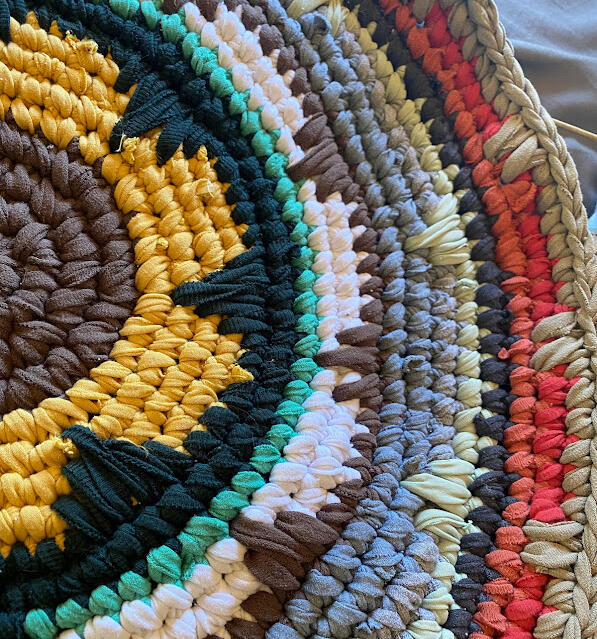 Add a touch of whimsy to any room in your home- or even your camper or RV!
Color combinations will vary, but all are brights combined with naturals.
Approximately 26" across
---
Round Spiral Accent Rug
$35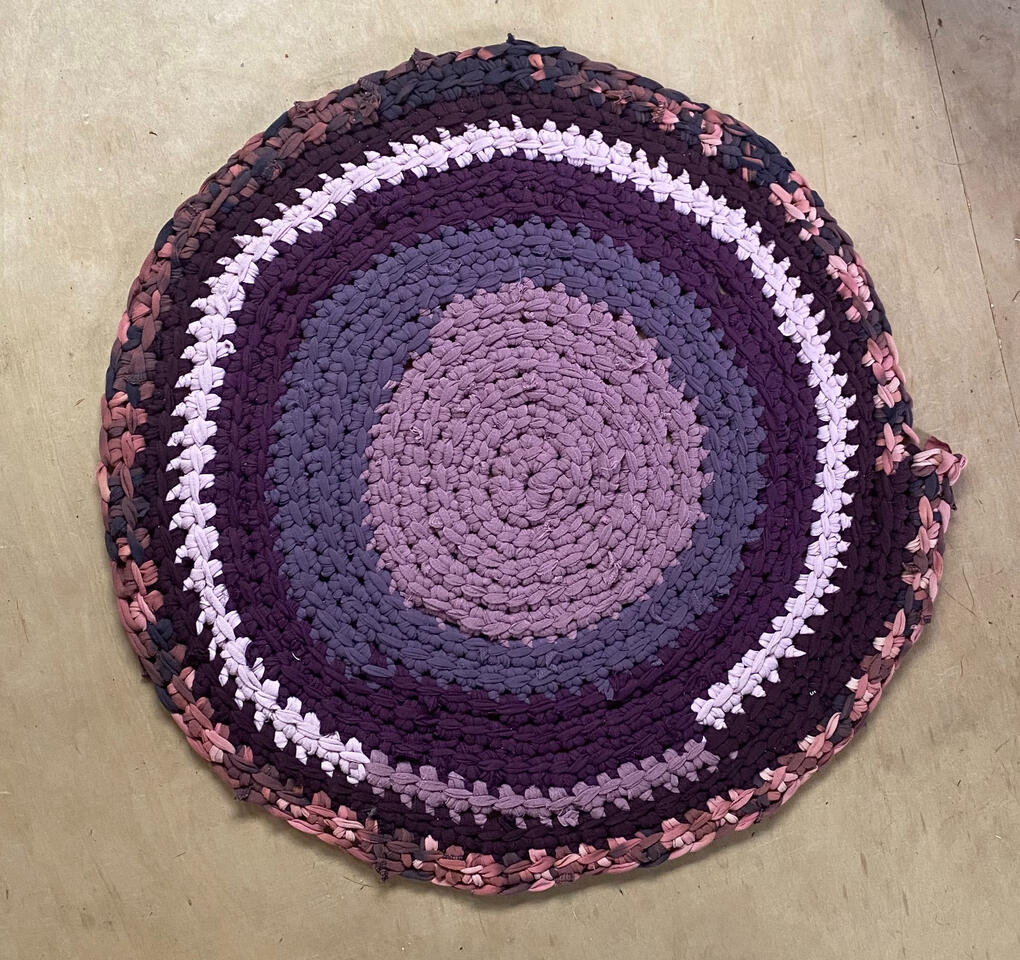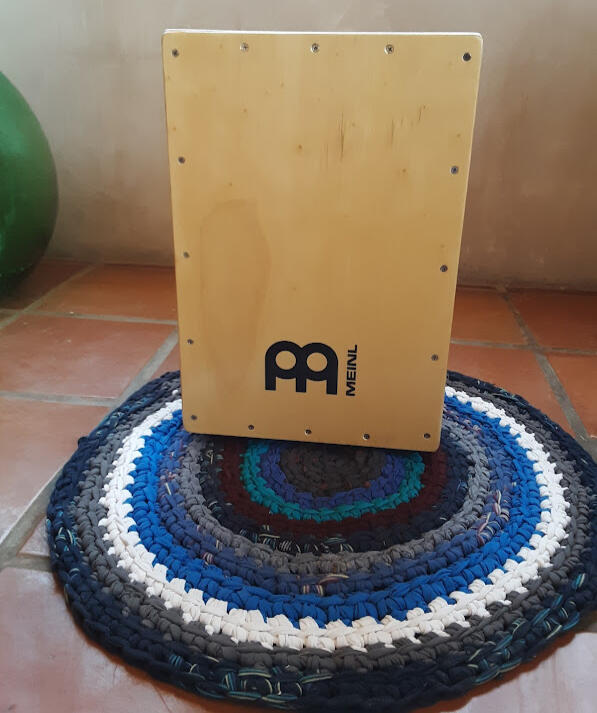 Finger Crocheted in a mesmerizing round pattern. Keeps approximately 7-8 articles of clothing out of the landfill!
Approximately 24"W x24"H
---
Oval Accent Rug
$35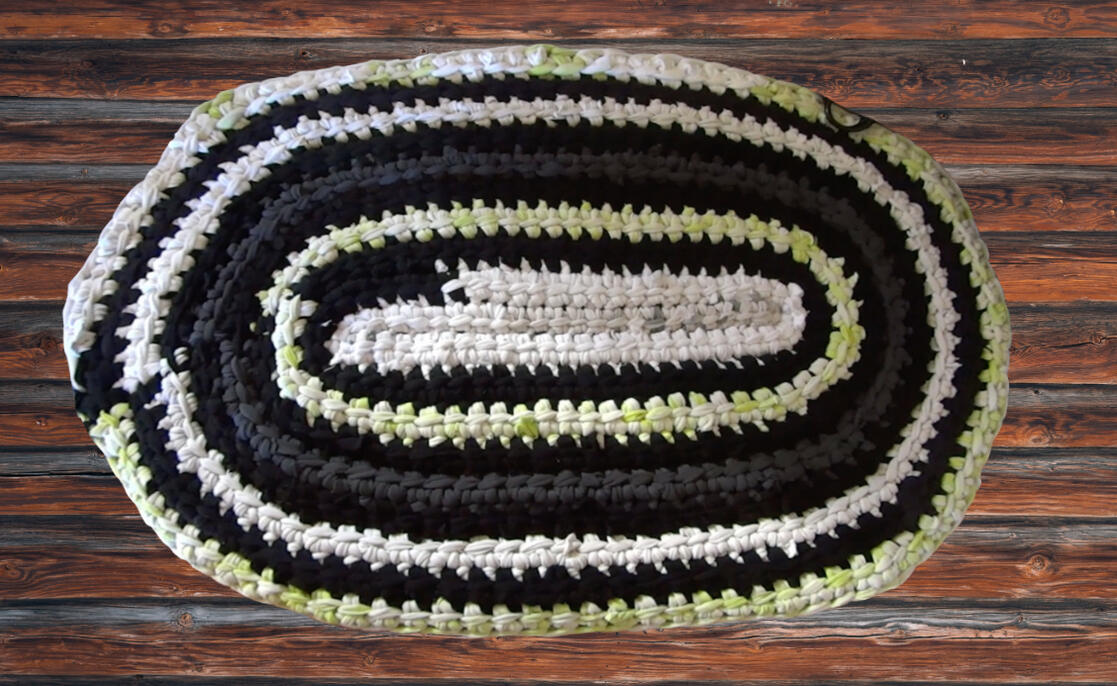 Oval rugs are the perfect shape for any space. Keeps approximately 8 articles of clothing out of the landfill.
approximately 32"W x 20"H
---
Knit Rectangular Accent Rug
$40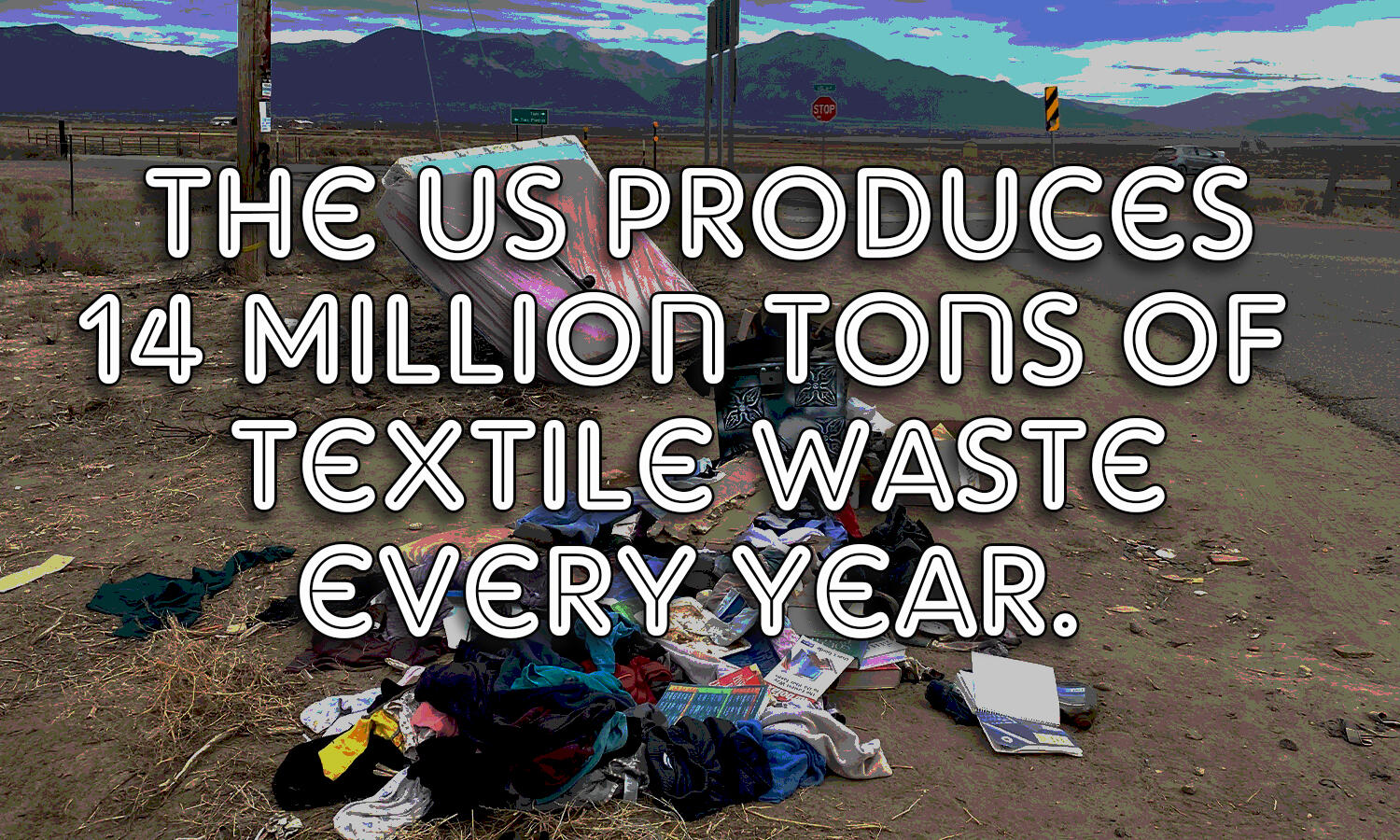 Our knit rugs have a tighter stitch making for a squishier rug-- perfect as a bath mat or a baby play mat. Keeps a whopping TEN items out of the landfill!
approx. 26" Lx16"W
---
One-of-a-kind Items
---
These items are ready-to-ship based on the creativity of our creators. Only one of each is available and, once purchased, you will receive the exact item pictured.
These items may be prototypes or samples that are not yet finalized, or from a creator who is still learning the ropes- so show them your support!
---
Shoulder tote
$35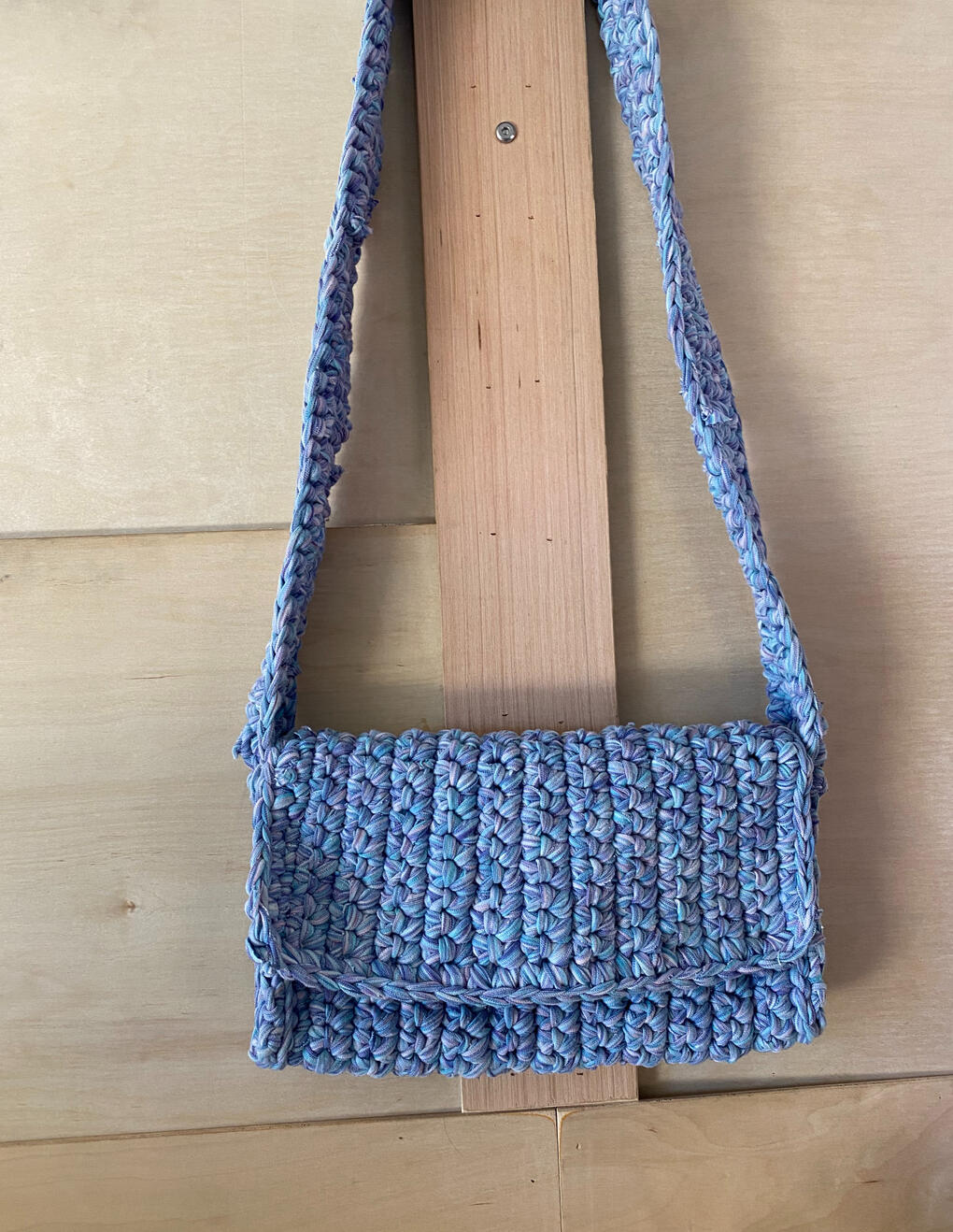 Wear it on your shoulder or across the torso for added security! Fits everything from your wine to baguettes and everything in between!
As always, hand crocheted with 100% upcycled material and keeps 5-6 items out of the landfill.
---
Seafoam Tote Bag
$30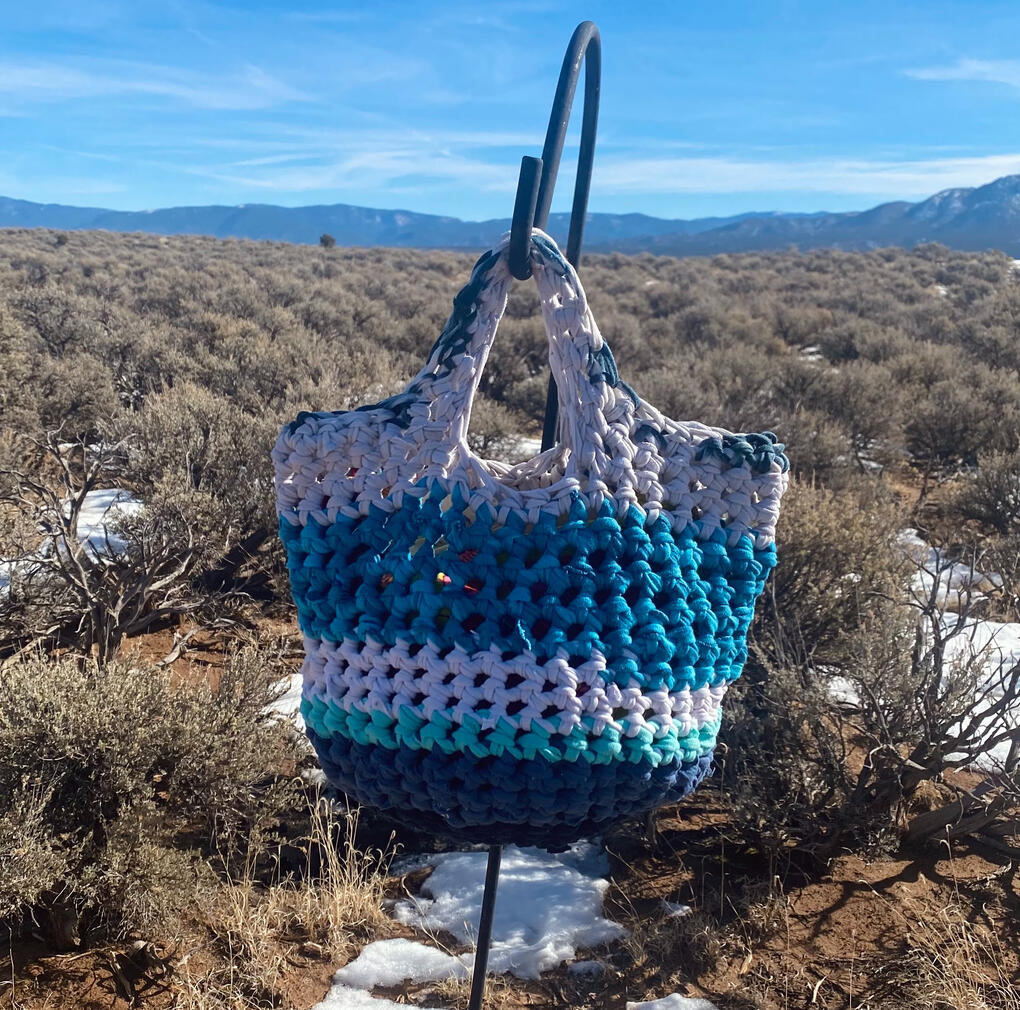 The dreamy colors on this tote will make all your errands a little brighter!
---
Cashmere/Wool Plaited Rug
$45
Meticulously hand braided from discarded wool and cashmere sweaters. 24" across.
---
Thank you! Your order has been receieved!
Purchase Cancelled :(
Please Try Again.