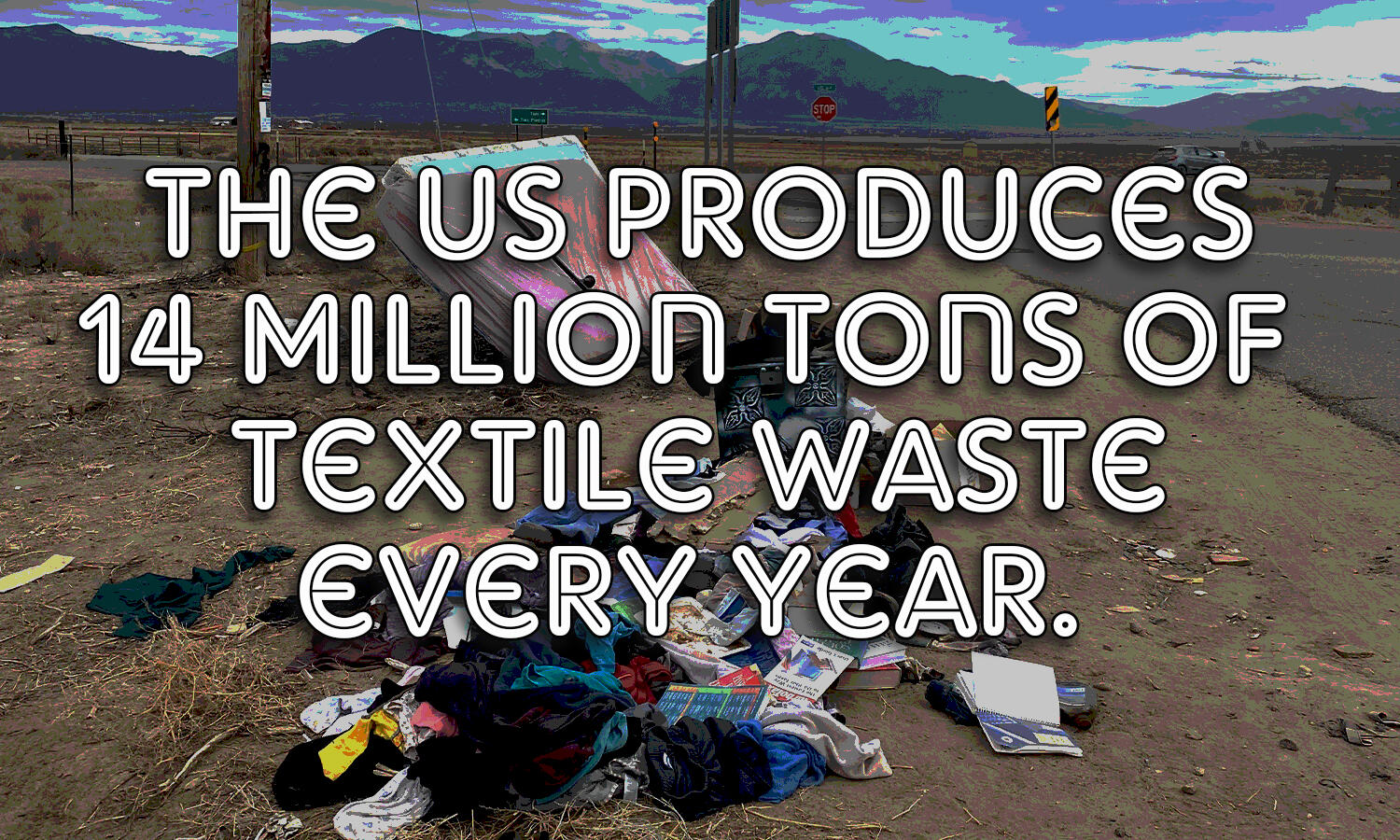 We develop innovative ways to deal with the massive problem of textile waste that have a positive impact on our community, economy and environment.
---
Proudly Working Together with
To have the most positive impact possible.
---
Make sure you don't miss the latest news!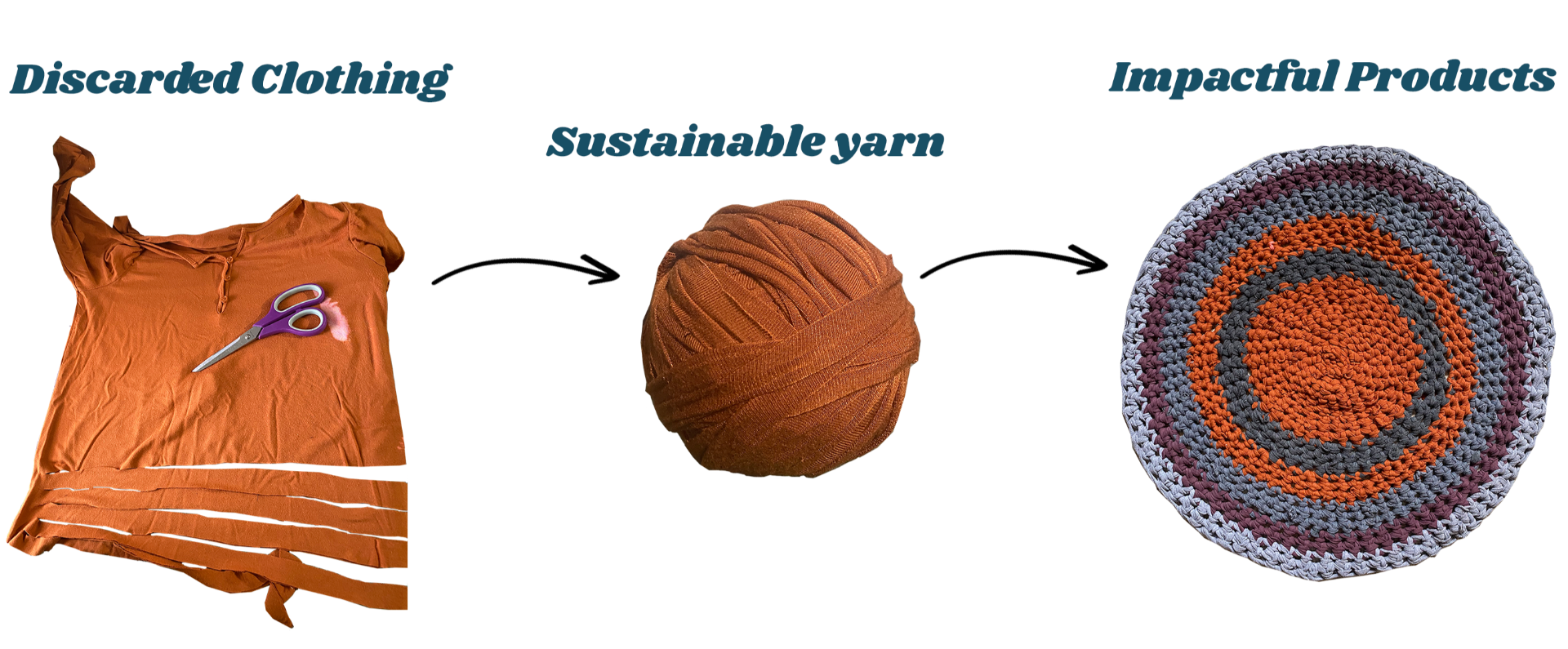 ---
We're all about...
The
Planet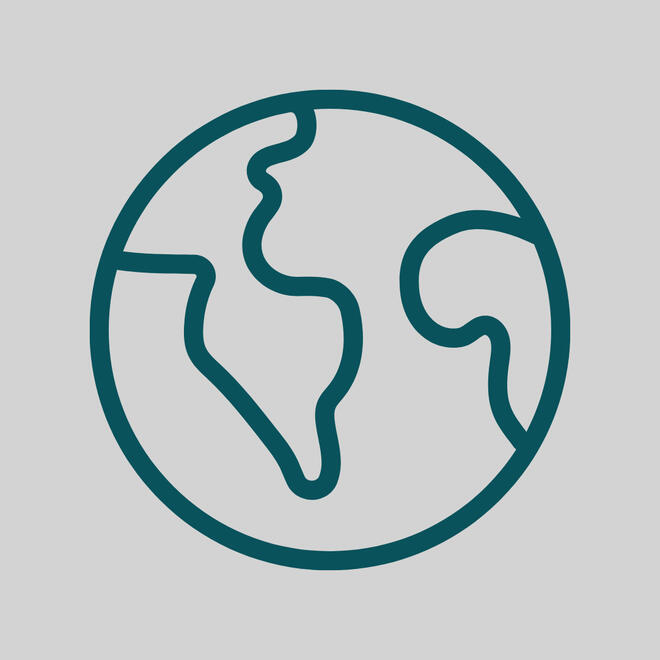 The
People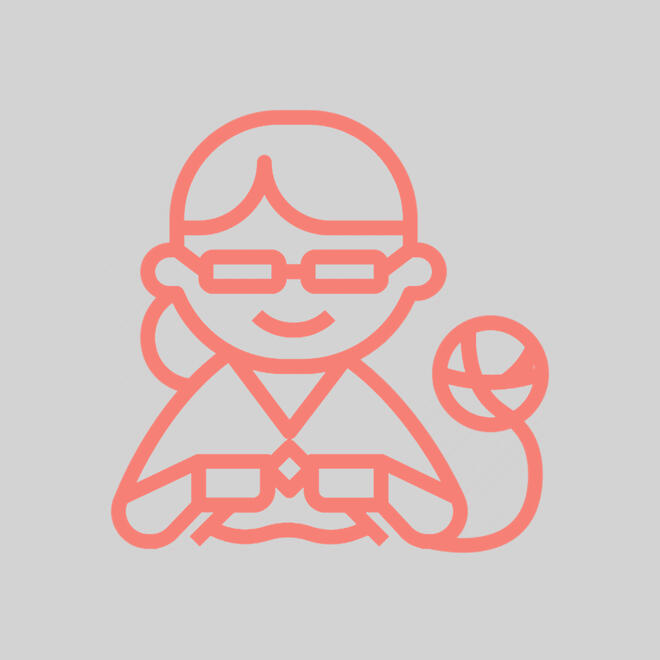 The
Product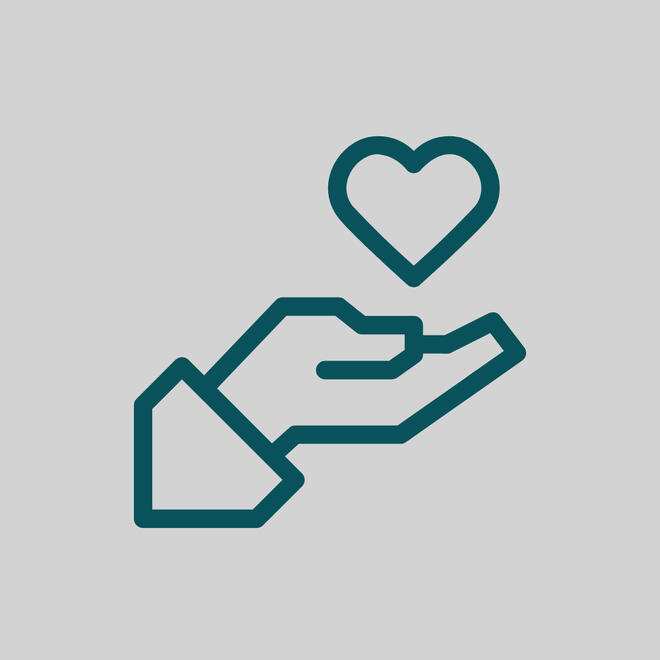 ---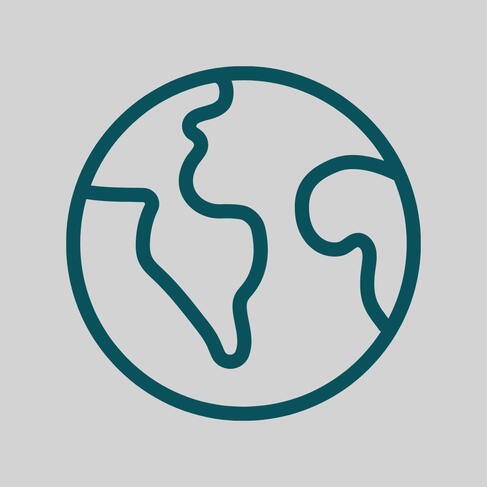 14 million tons of textiles are discarded every year in the US. We divert unwanted clothing from going to the landfill and turn it into versatile yarn.
---
Our partner creators with barriers to employment gain the mental and physical benefits of knitting and crocheting while creating products customers love.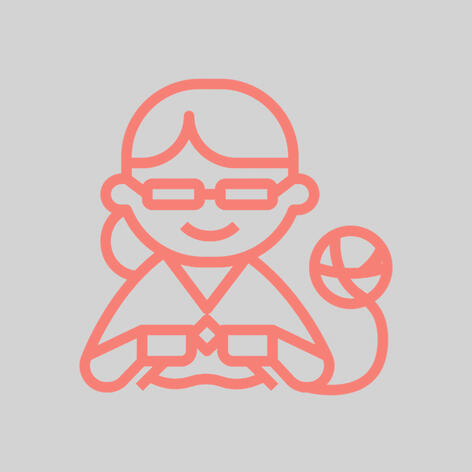 ---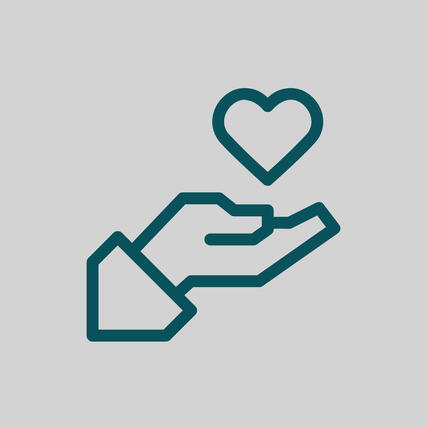 When a customer makes a purchase, the funds generated benefit our sustainability mission as well as returning directly into the hands of our creators.
---
We Need You!
To earn money by knitting & crocheting using eco-friendly materials, please learn more below!
---
Thank you For Joining!
We can't wait to show you what we've been working on. In the mean time, please connect with us on social media to keep in touch.
---
About Us
Giglet's Garments was founded in the summer of 2021 and is the brainchild of founder and CEO, Emi Wall, as a way to deal with the massive amounts of post-consumer textile waste polluting our environment every day.
In December 2022, we launched the Giglet's Garments Foundation, which is the non-profit side of our mission devoted to researching and developing new ways to keep textiles out of our landfills and environments.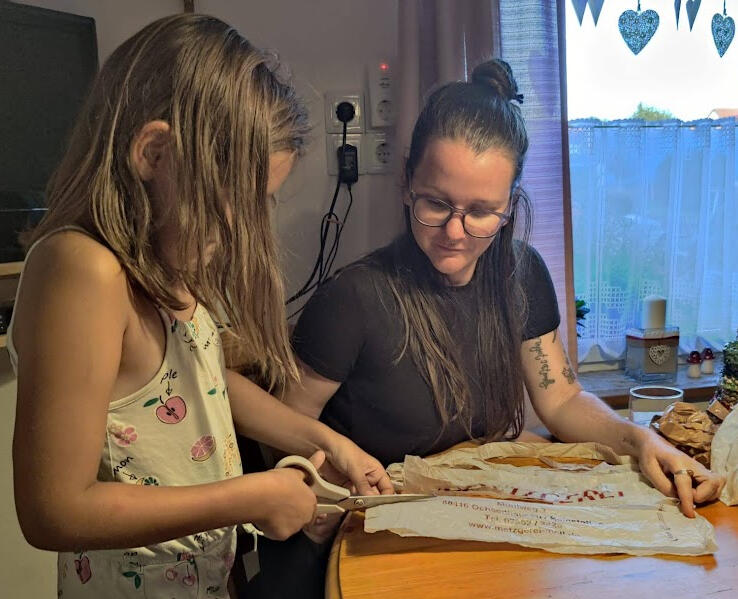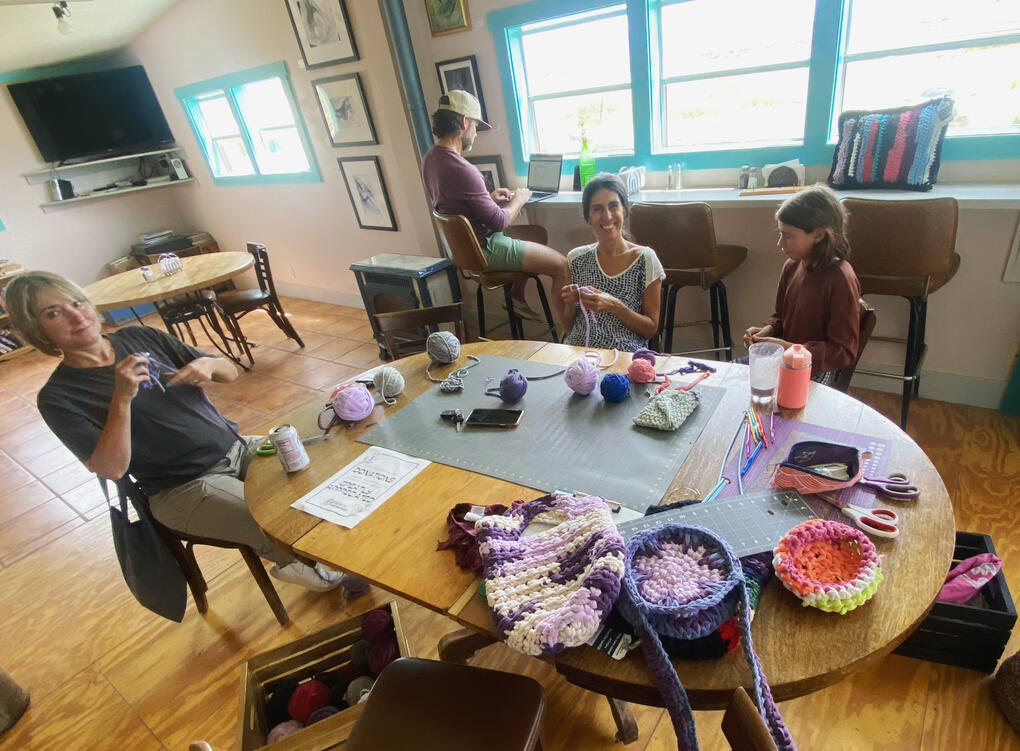 The largest of our current initiatives is the Handmade line, in which we reclaim discarded textiles and turn them into sustainable and versatile yarn, then teach people to knit and crochet in order to earn money while learning a therapeutic hobby.
We're also committed to hosting local events such as clothing swaps and upcycling workshops in order to decrease the burden of textile waste on our community.
It's our mission to re-define what we consider 'waste' and use products destined for the landfill to create a positive impact in our community and environment. The Giglet's Garments Foundation continuously workshops new ideas to provide circular community-level solutions to the problem of textile waste.
check back soon to see our latest news!
Become a creator and craft for the planet!
---
---
---
Every Purchase Saves
Textiles from the Landfill!
---
Made to Order
---
These items are part of our made-to-order line. Once your purchase is complete, our creators will get to work on your item(s) in the color combinations of upcycled yarn that we have available.
Color palettes cannot be guaranteed. Items will be created and ready to ship in 7-10 days. Due to the handmade nature of our products, sizes are all estimated. All transactions are handled through Paypal Processing
---
Mandala Mug Rugs - Set of 2-
$20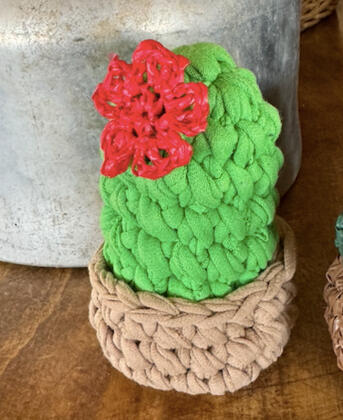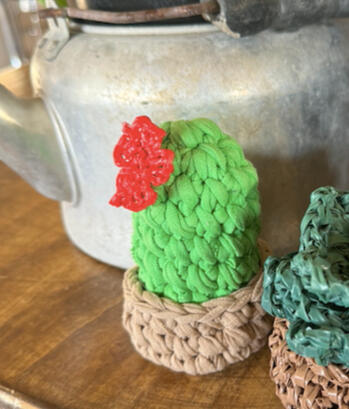 The perfect upcycled accent that will protect your tables and make any room brighter. Put them under mugs, bowls, and even candles.
Set of 2 in coordinating colors.
Mini Messenger Bag-
$45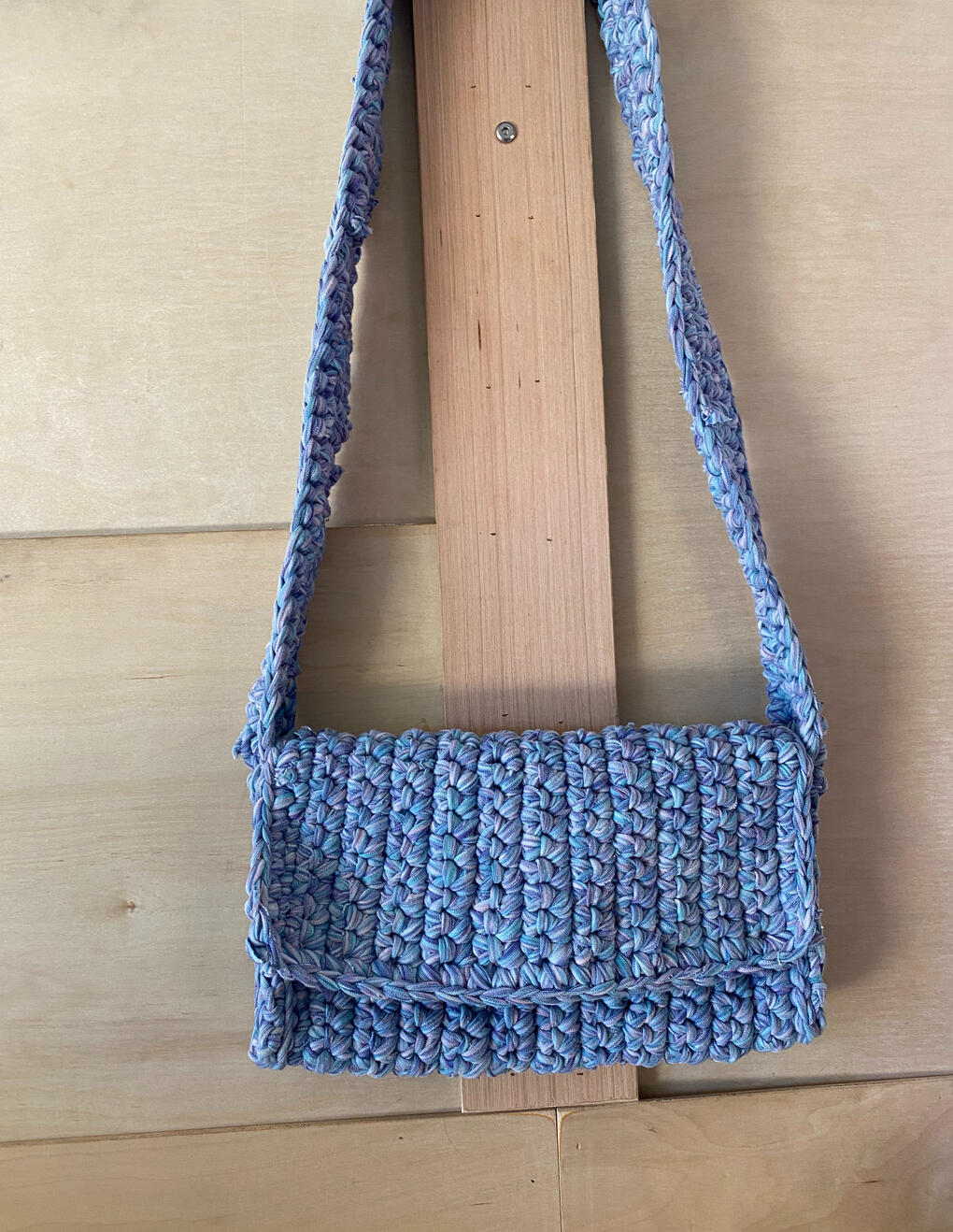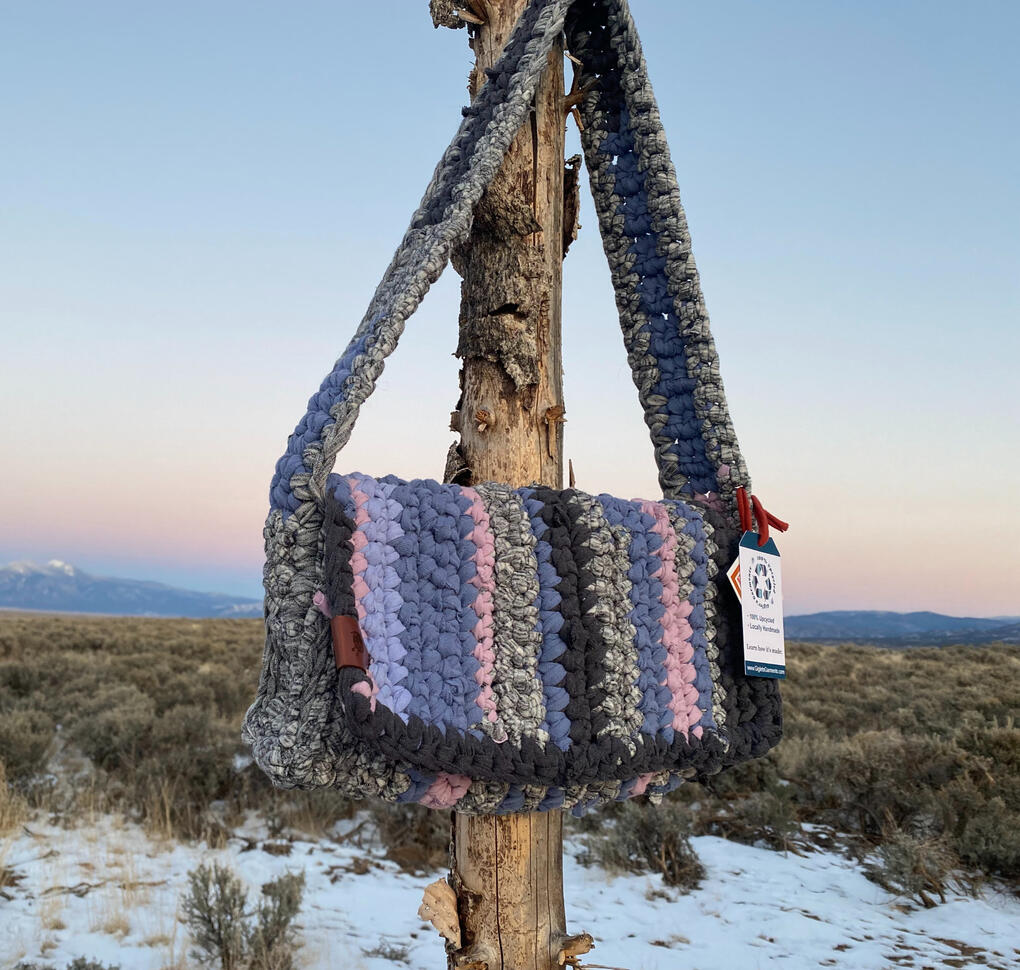 The mini messenger is one of our most stylish and functional designs. Slip your notebook and tablet inside and you're good to go. The extra wide strap makes it feel sturdy and still fashionable on your shoulder.
Keeps about 8 items out of the landfill!
approximately 12-14" across and 8-10" tall
---
Plastic Bag Bag
$25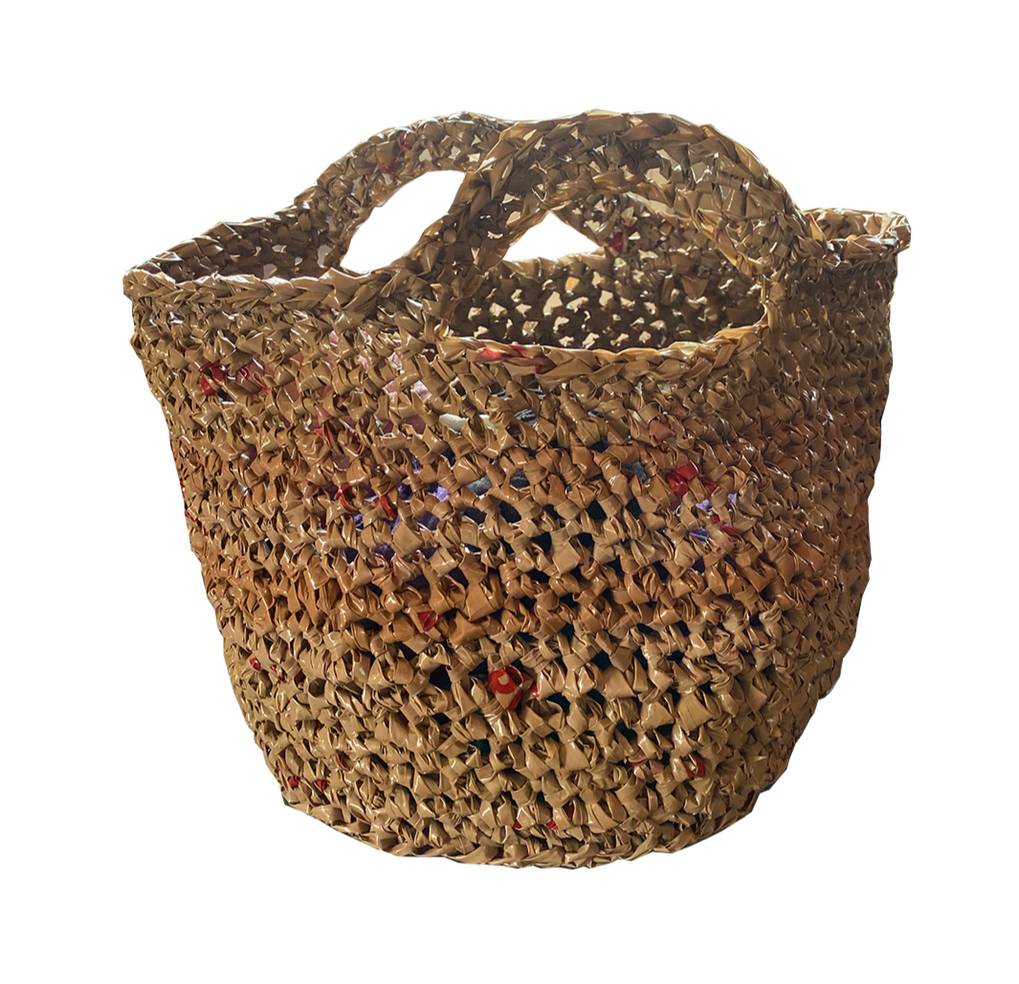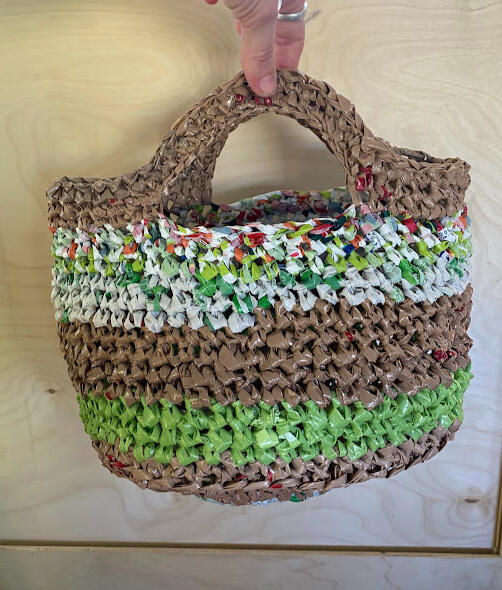 Made entirely out of plastic grocery store bags, the plastic bag bag is sure to turn heads! hand crocheted in a basket-type shape to wear on your arm to all your outings.
Saves 8-10 plastic bags from the landfill.
---
Market Bag - Small
$25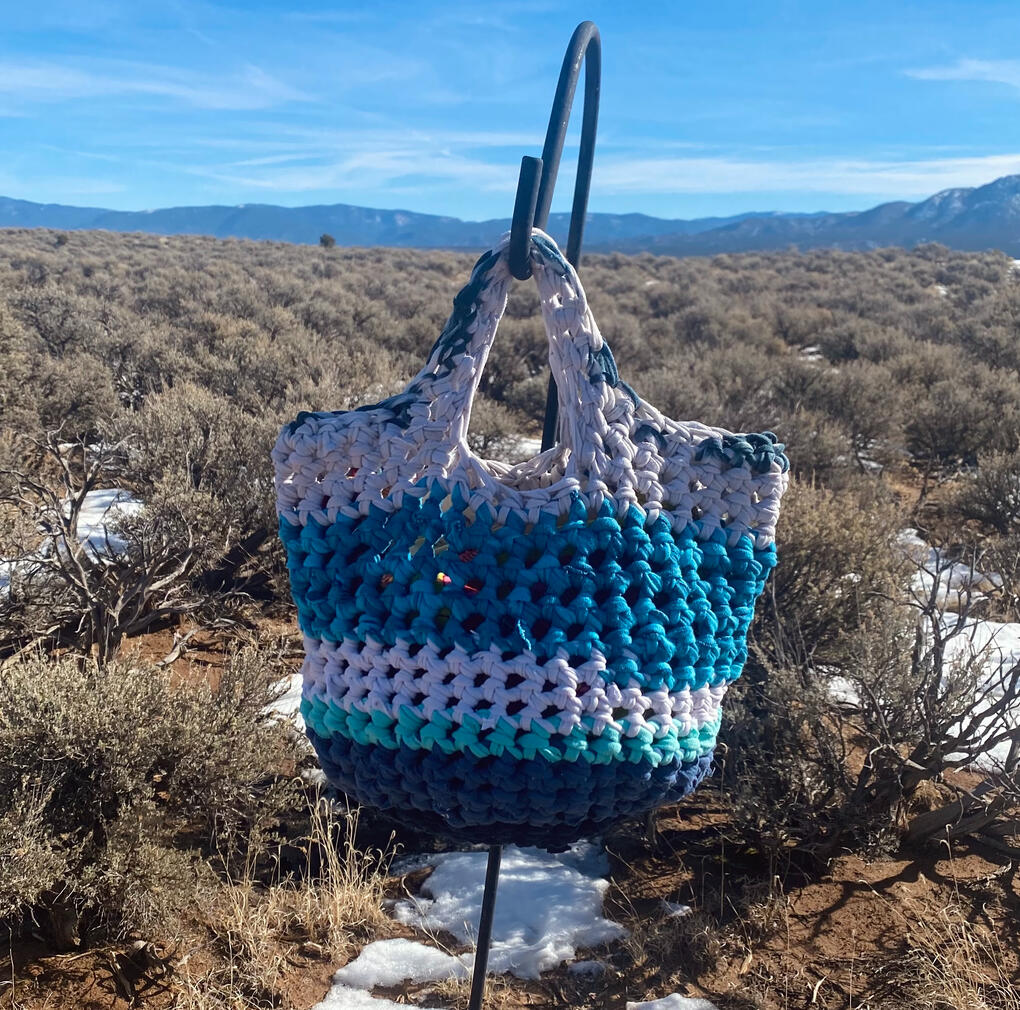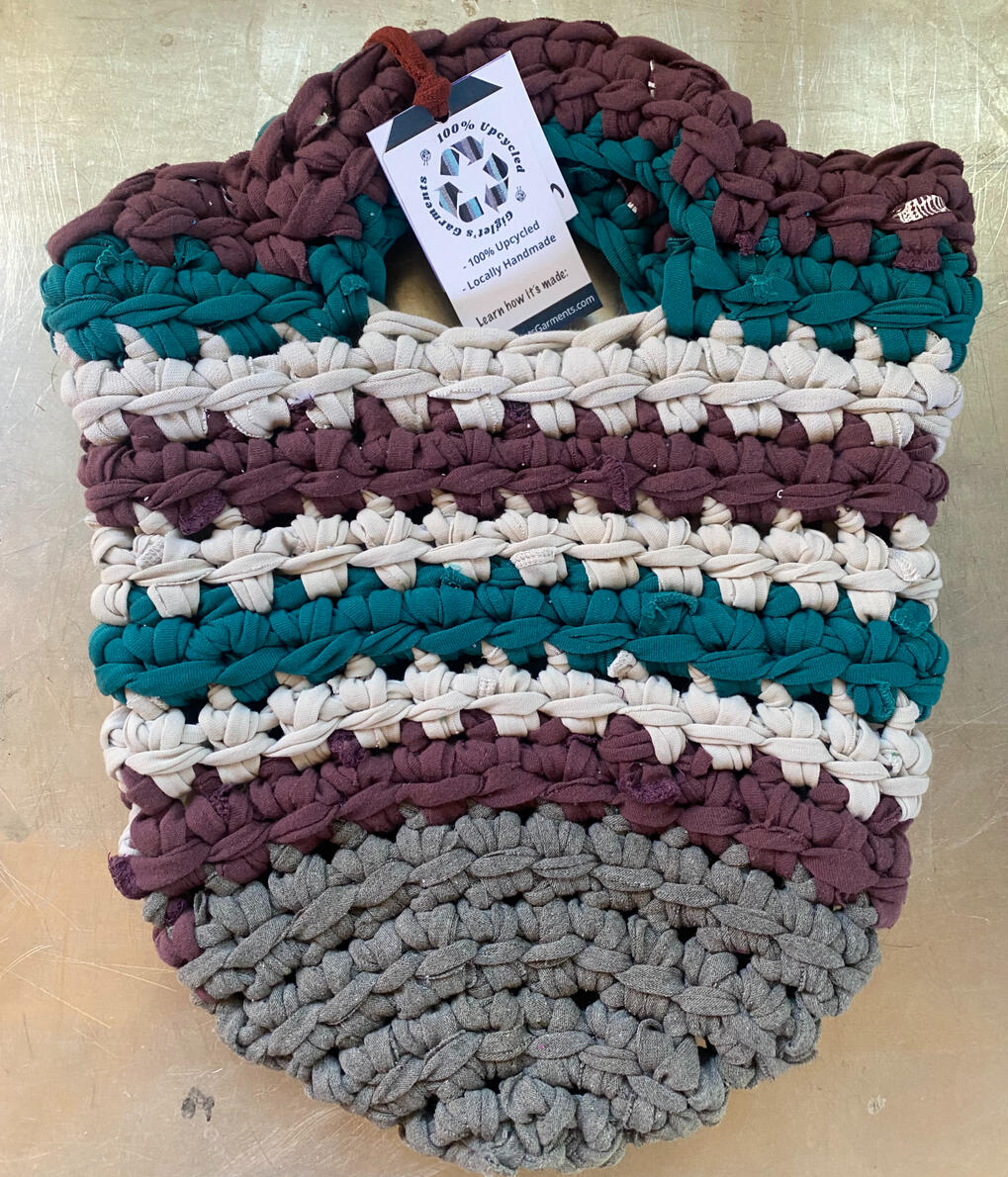 Just right for your casual shopping days. As always, made of 100% upcycled materials. Keeps about 4-5 items out of the landfill
---
Envelope Clutch
$20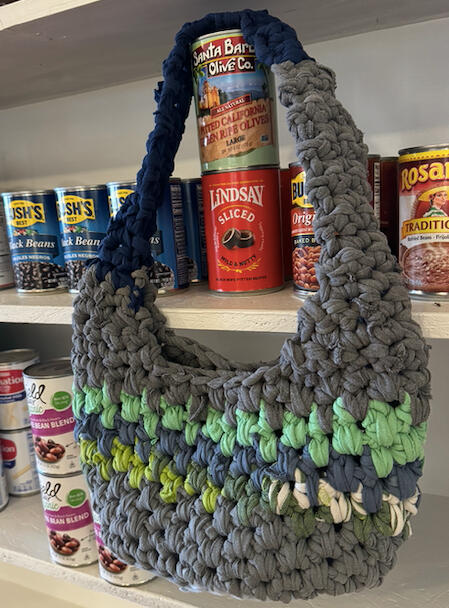 The perfect evening bag, sure to be a conversation-starter. Keeps 1-2 items out of the landfill, complete with upcycled accent button.
---
Market Bag - Large
$30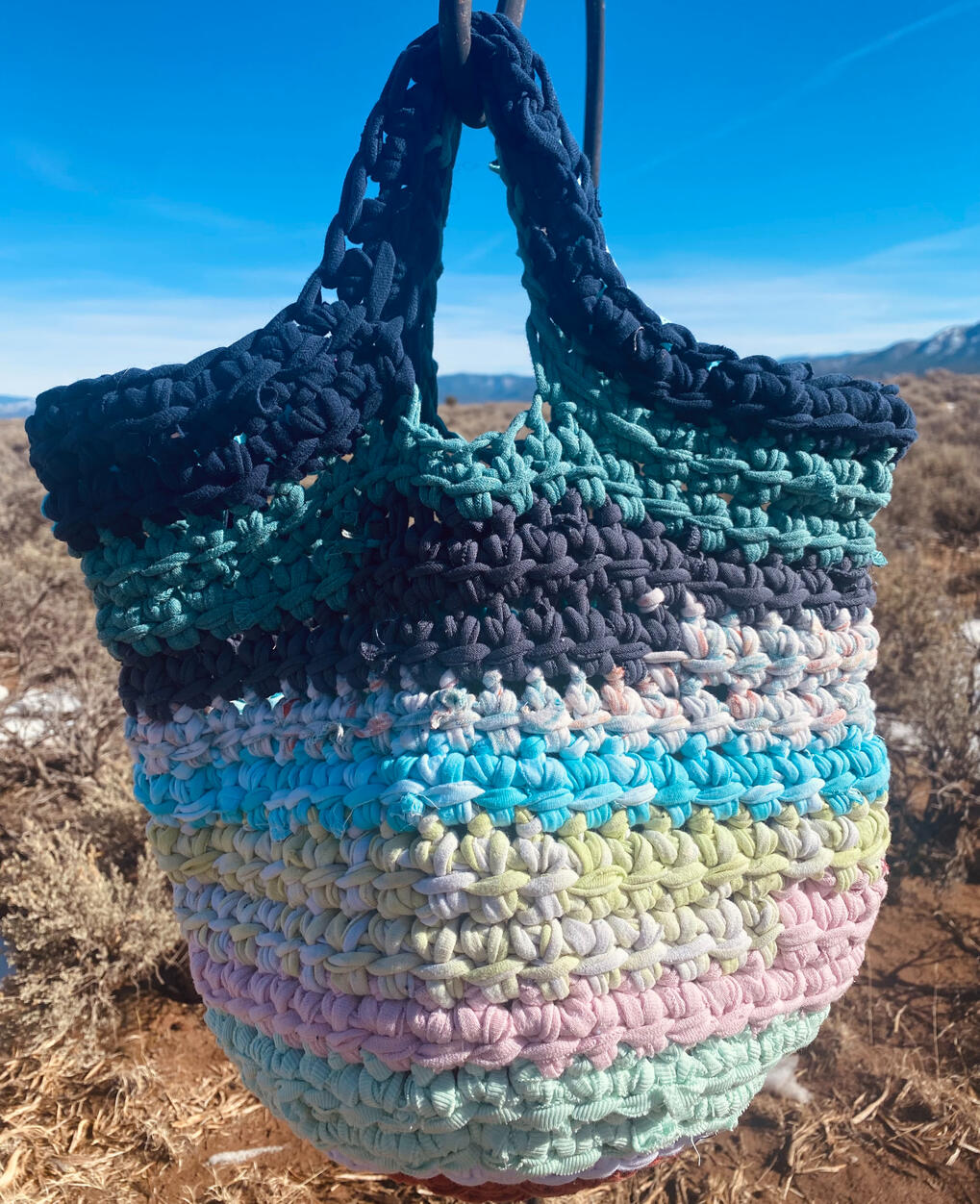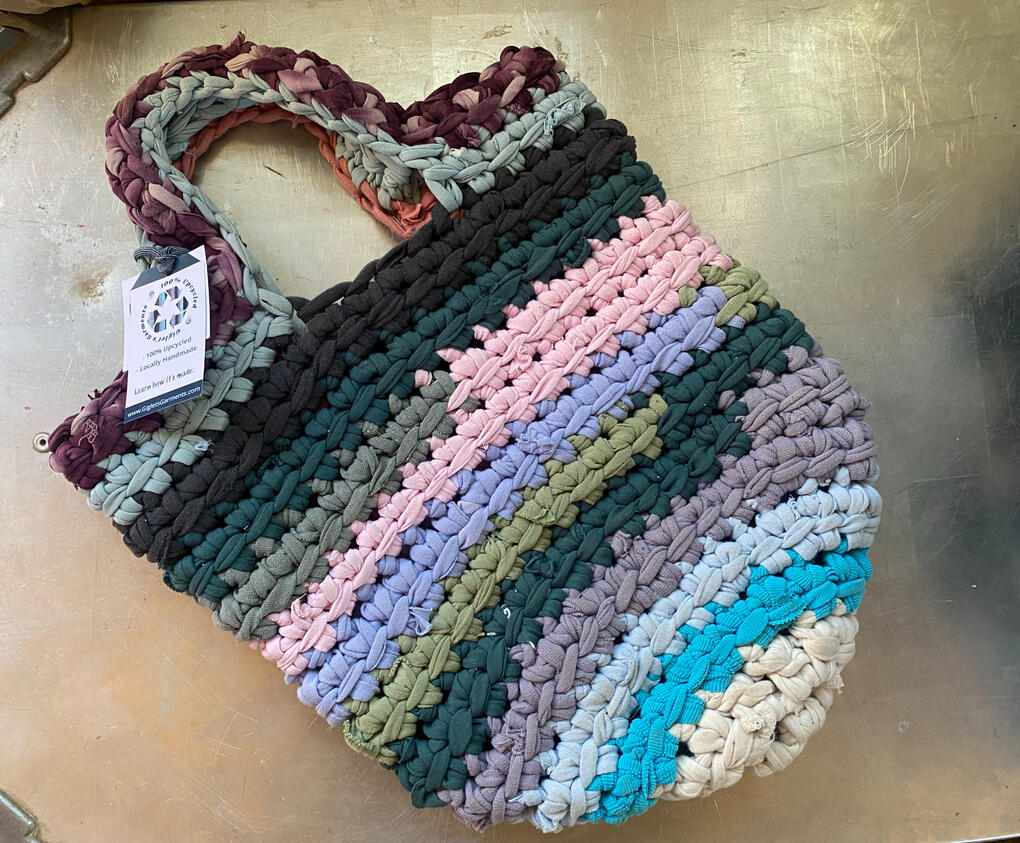 Make your trips to the market and more eco friendly with our 100% upcycled tote bags! These bags are hand-crafted from clothing that would otherwise be headed to the landfill. They are hand or machine washable, durable, and stretch to fit all your essentials. Keeps 6-7 articles of clothing out of the landfill.
Approx 13-14 in tall x 15 in wide
---
Circle Crossbody- Solid
$25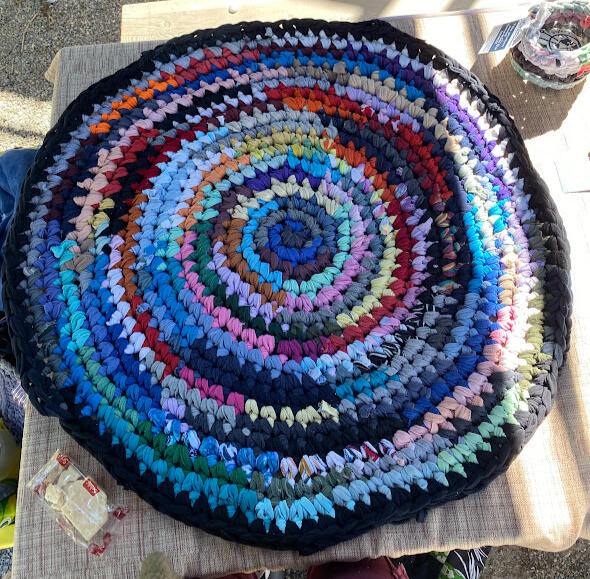 The perfect everyday bag for carrying your essentials.
Keeps 3 articles out of the landfill.
Bag measures 8" across
strap width 1.5"
strap drop 19"
---
Scrappy Pillow
$30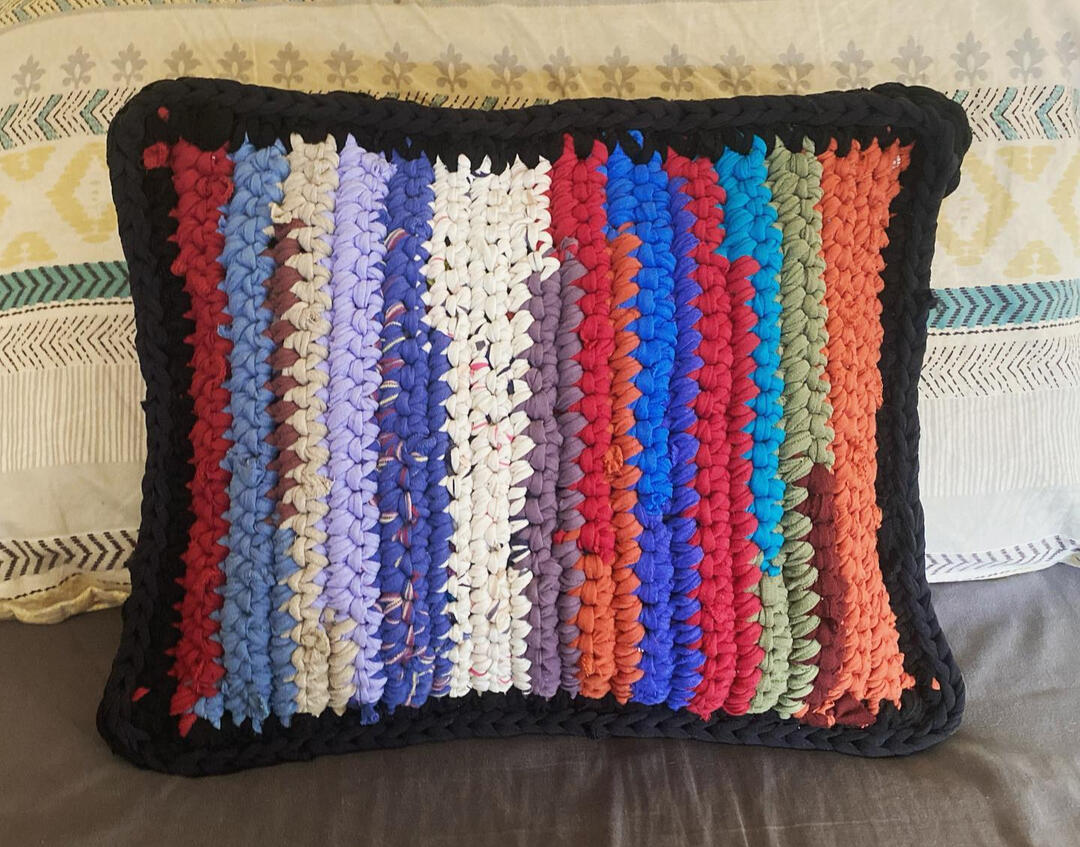 Looking for our MOST sustainable product? Well, look no further! Our pillows are stuffed with scraps and offcuts from our yarn-making process and your pillow purchase allows our company to be completely circular and zero waste!
Basic pillow is approximately 18" wide x 14" tall
---
Folk Flower Round Rug
$45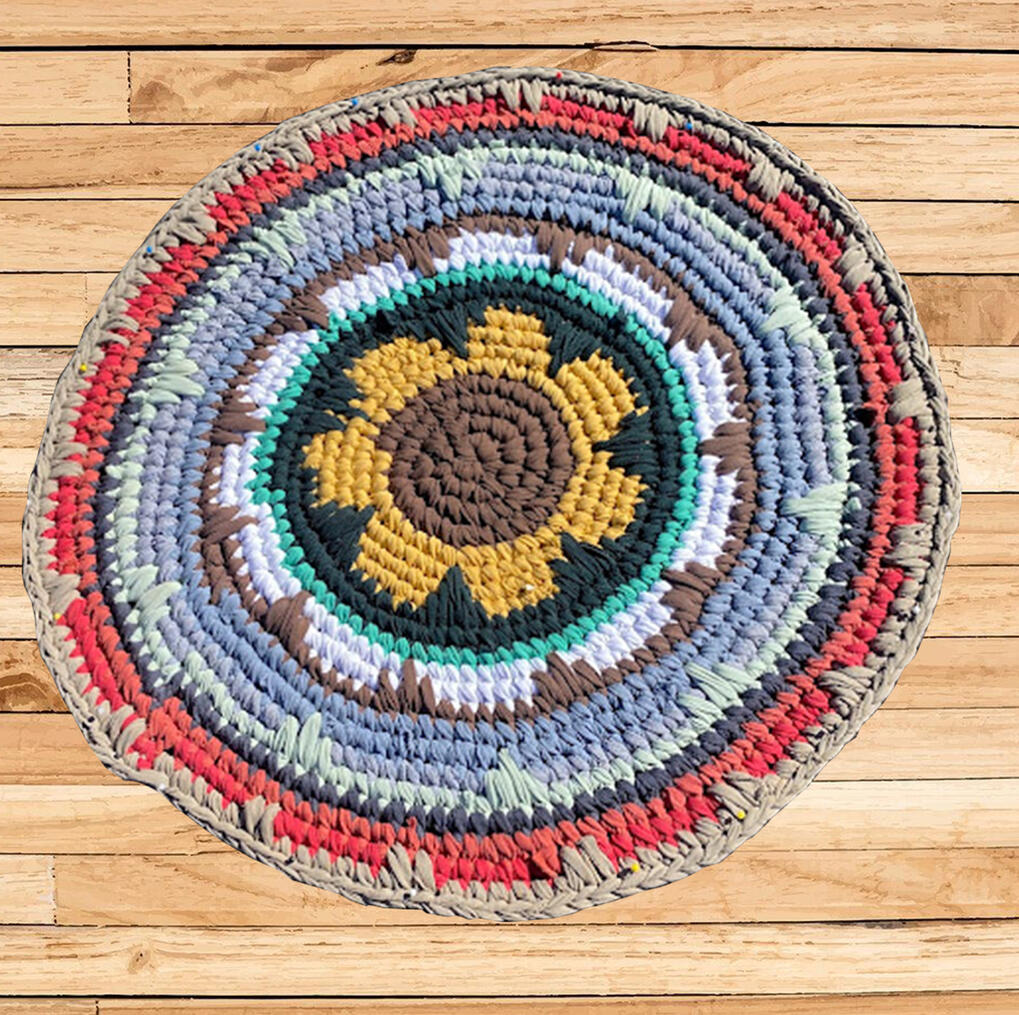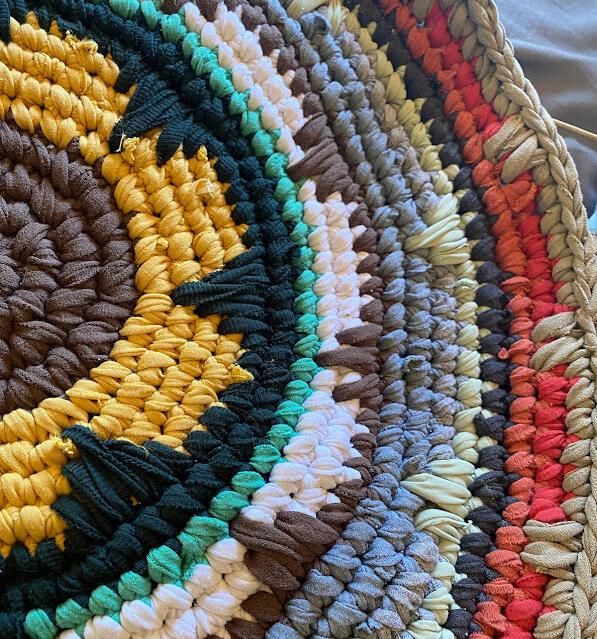 Add a touch of whimsy to any room in your home- or even your camper or RV!
Color combinations will vary, but all are brights combined with naturals.
Approximately 26" across
---
Round Spiral Accent Rug
$35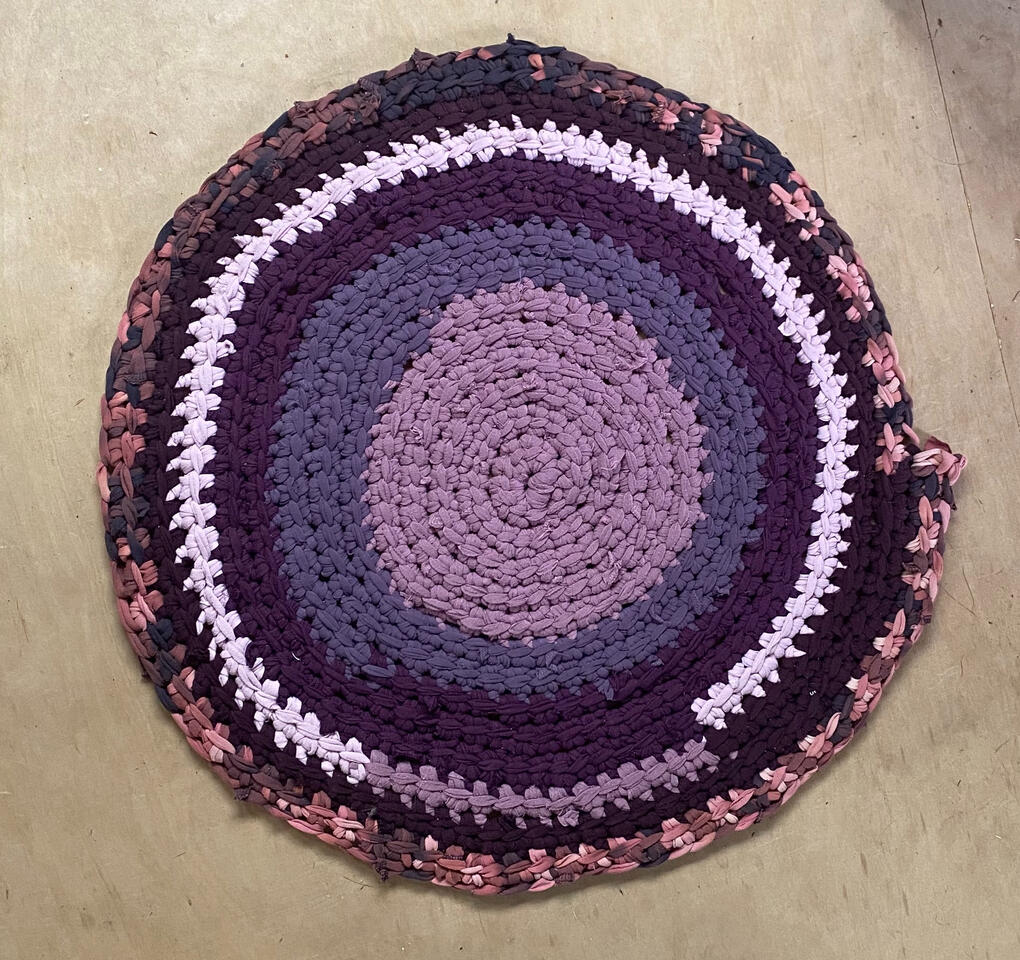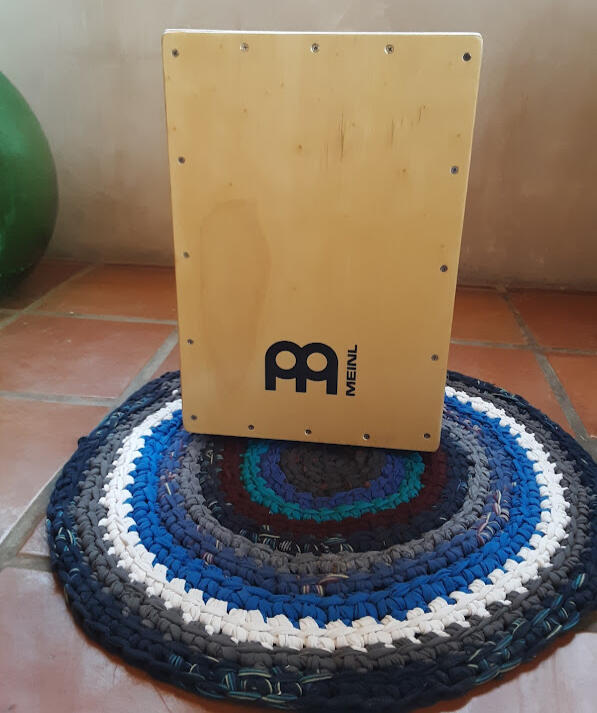 Finger Crocheted in a mesmerizing round pattern. Keeps approximately 7-8 articles of clothing out of the landfill!
Approximately 24"W x24"H
---
Oval Accent Rug
$35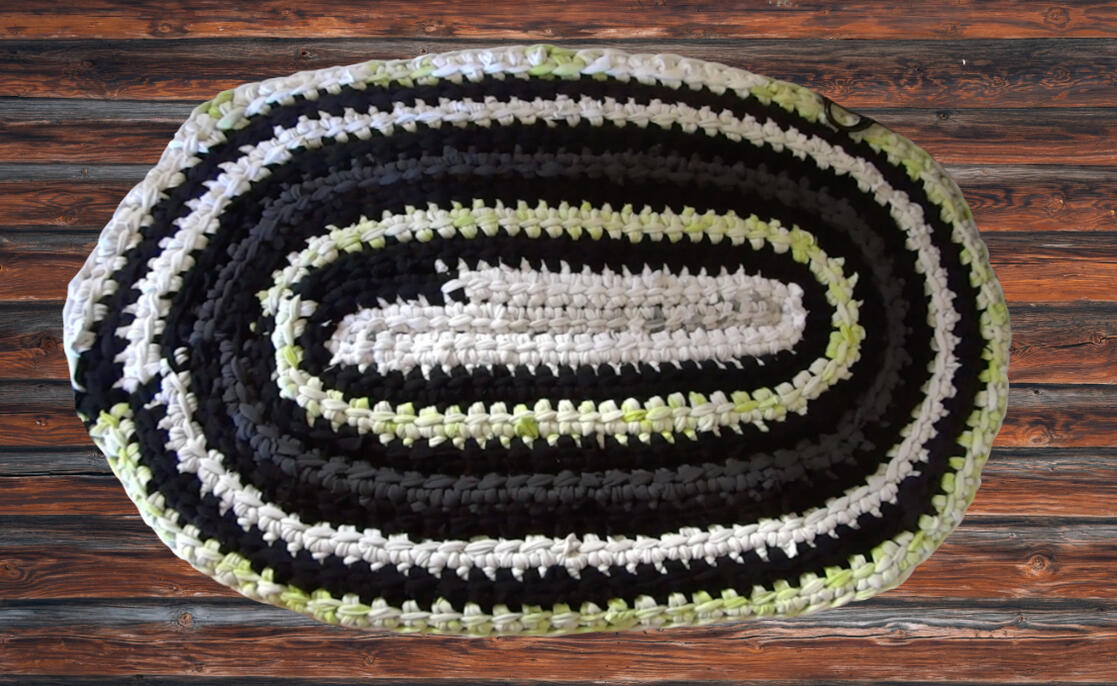 Oval rugs are the perfect shape for any space. Keeps approximately 8 articles of clothing out of the landfill.
approximately 32"W x 20"H
---
Thank you! Your order has been receieved!
Purchase Cancelled :(
Please Try Again.
More Info Coming Soon!
---
Keeping discarded textiles out of our landfills and environment while using this "waste" as a building block for economic gain by turning it into new materials and products.
---
The Giglet's Garment's Foundation is operating through a fiscal sponsorship with Players Philanthropy Fund (Federal Tax ID: 27-6601178, ppf.org/pp), a Maryland charitable trust with federal tax-exempt status from the IRS as a public charity under Section 501(c)(3). Contributions to our foundation are tax-deductible to the fullest extent of the law.